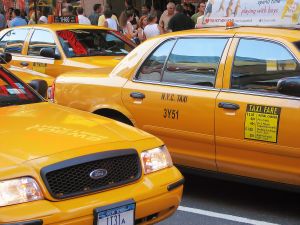 One of the pleasures (sarcasm dripping) I get to do being back in the US is see all the wonderful TV I have been missing while in Japan. There are all kinds of shows that I have never seen or heard of while in Japan, so these may be well known to you, but all completely new to me. Today I stumbled across a show called Cash Cab on the Discovery channel.
It's a pretty simple trivia game when the contestant is an unsuspecting person who gets into a New York cab. The riders get asked trivia questions on the way to their destination. If they can answer them without getting three answers wrong by the time they reach their destination, they get to keep the money they win.
Now, this show didn't really interest me at all except for the end – if they make it to their destination and have won money, they are given a choice of taking the money they have won, or getting one more trivia question for double or nothing. What I found interesting (and pleasantly surprising) is that the vast majority of the people choose to take the guaranteed money and leave (7 out of 7 I saw).
Now, I have no idea if this is normal or was just a quirk of when I watched, but it is good to see that people use common sense and take away a guaranteed amount rather than getting greedy and going for more. While I don't think I'll be watching it again, I have a bit more faith in the average person with their personal finances and making smart choices than is usually featured in the news and surveys. Of course, I have no idea what they did with the money they won…