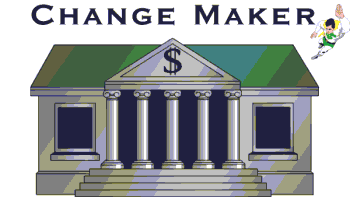 I feel strongly that it's the parents' responsibility to teach their kids about money and finances because the fact is, they aren't going to learn it anyplace else. If you have young kids that need practice counting money, there are a number of excellent free online resources available that are both educational and fun to use. Here are some you might want to check out to help your children (and yourself) with counting money (for parents that need help saving money, check out Save Money Games):
Piggybank: A fun interactive game when coins fall from the top of the screen and you must click on them to add them together for a specified amount which is your goal. If you make a mistake, you can remove a chosen coin from your total by clicking on it again. There are 2 levels to the game: Easy (shows the sum of your chosen coins) and Hard (no total is shown so you must remember the total). You win if you can fill the piggy bank.
Change Maker: A nice International money game that can be played with money from the US, Canada, Mexico, the United Kingdom or Australia. You can also choose between 4 skill levels: Easy (amounts less than $1.00), Medium (amounts less than $5.00), Hard (amounts less than $100.00) and Super Brain (big spenders – purchases over $100.00).
In this game you must figure out the amount of change you would receive in the question. For example, if something costs $3.20 and you pay with a five dollar bill, you would expect back a $1.00 bill, 3 quarters and 1 nickel.
Questions answered correctly get the amount of change added to your piggy bank. Questions answered incorrectly have the correct amount of change subtracted from your piggy bank. As the money grows in your piggy bank, the questions become more difficult.
Money Flash Cards: This is an interactive money game with dollar bills, quarters, dimes, nickels and pennies showing up on the screen. You count the money, input your answer and it will let you know if you are correct or not. You can also do this with interactive worksheet with 10, 20 or 50 problems all laid out on a single screen. The coins and bills are placed in order (not randomly distributed) making it easier for smaller children to count
How Many Cents?: This is an easy interactive game where coins under $1.00 are displayed. You add up the coins and if you answer is correct, you get a new question. If it is incorrect, them you have to try again. The "Index" button at the bottom will bring up a menu of sixteen additional early education games that can be played.
Learn to Count Money: This game lets you pick the difficulty level by the number of coins displayed ( from 3 to 8 ) and the denominations (from pennies through $20.00 bills). Some of the coins are a bit difficult to distinguish apart, but you can hit the hint button if you are having trouble.