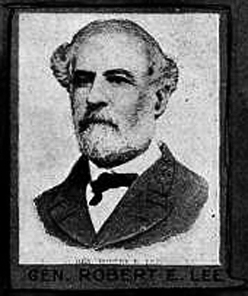 The day after Thanksgiving will likely be filled with leftovers and shopping for many people. However, those living in the state of Georgia have a state holiday on their calendars, and it is not so they can get the best Black Friday deals. The state will be celebrating Robert E. Lee (months before his birthday).
States that choose to celebrate Robert E. Lee have celebrated the war figure on Martin Luther King Jr. Day in the past. Every state in the United States celebrates Martin Luther King Jr. Day, but not all of them celebrate Robert E. Lee's Birthday. In three states Alabama, Arkansas and Mississippi, Martin Luther King Jr. Day is also Robert E. Lee Day, but Georgia has parted from that tradition, giving Lee his very own day in the state.
Officials in Georgia have coined the words "Confederate Memorial Day," and "Robert E. Lee's Birthday" from the state's official 2016 holiday calendar, replacing the designations for the days off with the words "state holiday" instead.
The change was implemented earlier this year and many government employees didn't know until they saw the list of state holidays in an email. Employees will be getting the days off, but, according to Brian Robinson, spokesman for Gov. Nathan Deal, those days will not be known by their Civil War roots.
"There will be a state holiday on that day," Brian Robinson said. "Those so inclined can observe Confederate Memorial Day and remember those who died in that conflict.". In the new 2015 calendar, April 27 is listed as Confederate Memorial Day and Nov. 27 as Lee's birthday.
Georgia's governor signed a proclamation declaring that each year April Confederate History Month and April 27 Confederate Memorial Day will be celebrated, as well as, a proclamation for Robert E. Lee's birthday. Robert E Lee Day will take the Friday after Thanksgiving in Georgia is an official state holiday.
The announcement to change the day to the day after Thanksgiving came after the Confederate Battle flag was taken down in many places throughout the south this year after shooter Dylann Root shot and killed nine people in a Charleston church.