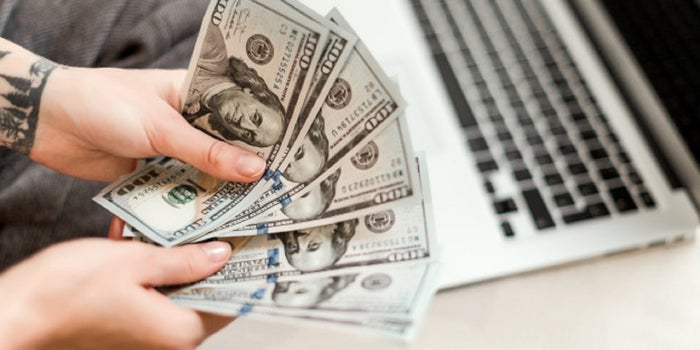 Being able to work from home has become one of the most desirable traits a role can offer, a survey by Buffer showed that 99% of the workforce wants to continue telecommuting. Not only have many of us learned that it can offer job security but it is also now the preferred way to work. The list of benefits of working from home is a lengthy one and the workforce's mentally towards it has shifted; a survey by CoSo Cloud showed that 77% of remote workers say they are more productive working from home as opposed to working from an office. So what are the best work from home jobs and how can you make money with them? 
Part-time Solutions to Work and Earn from Home
Whether you are a stay-at-home parent or already working part-time and looking to fill some down-time to turn a penny, there are many different avenues to do so. An increasingly popular solution in the technological era is being a part of ever-important market research. Market research has moved online to garner more information and opinions from the public with regards to products and services. 
Some of these market research websites that will pay you to give your opinions are Life Points, Opinion Outpost and UserTesting. These are just a few of the many platforms where you can complete surveys based on your interests, navigate through new mobile applications and give opinions on new products to earn money. The best part being: the tasks will be tailored to your demographics and interests and can be completed on your phone from bed.
These tasks take anywhere from 15 minutes to an hour or so to complete and offer compensation for your time. Although the pay is relatively low or in the form of gift cards to popular vendors such as Starbucks, these tasks can cover small daily purchases. 
Some other companies that offer similar paid tasks are: Mobrog, Toluna and Survey Junkie. It is important to note that these companies have different age and demographic requirements and to research the best fit for you. 
Full-time Positions to Earn an Income at Home
If you are looking to switch from your typical 40 hour work week to work that can be done from home with flexibility, full-time remote positions are available to help you make ends meet. From customer service representatives to data entry jobs there are opportunities regardless of your background or experience level. 
Customer care and customer service representatives are amongst the many jobs moving remote. These positions often have little or no experience necessary to work while also having the perks similar to those of traditional employment. For example, companies such as Liveops give you the chance to take advantage of the e-learning materials and opportunities they provide while earning an income around a schedule that you get to decide. Similar roles exist with other companies, such as Sykes, which offer career advancement opportunities along with flexibility without the cost of stability. 
Data entry is another recommended source of income for those of you interested in remote work. Major companies are outsourcing their data entry work, meaning the opportunities are plenty. Working with these data entry companies as well you will be given the freedom to work when you want and opposed to working under and reporting to a manager, you will simply have tasks with specified timelines to complete. Roles generating and labeling data can be found through companies such as Clickworker and Amazon Mechanical Turk.
Be Your Own Manager while Working from Home
All the above mentioned roles come with the upside of not having to report to anyone but yourself. You can decide when you want to work and even where (although it may be at home for the foreseeable future). The days of dealing with micromanagers is no more but instead you can work in the comfort of your own home. You can reap the benefits of remote work such as spending more time with your family or being active as opposed to commuting. And when travel becomes a possibility again, you can take these money making roles with you on the road to your bucket list destinations.