There are many reasons why you should invest your time and money in online Forex trading. Ideally, most people take it to Forex trading because they want to make some extra money. Those who take Forex trading a serious business have made a fortune out of it.
If you've been thinking about investing in Forex trade, then you are in the right place. Continue reading to find out why you should not be afraid to make your first move.
                                                 Photo: You can invest in Forex trading right in the comfort of your home
1.  Minimal barriers to entry 
The Forex trading industry has no limitations on entry and exit. Meaning anybody can decide to become a Forex trader, and the process is simple and swift.
If you thought that it takes a lot to become a Forex trader, you are wrong. You don't need to break the bank for you to invest in Forex trading. Unlike trading in stocks and securities, the Forex industry does not siphon a lot of money from Forex traders.
You can begin trading with as little as USD 100 when you register with a mini Forex trading broker. If you want to begin your journey in Forex trading and understand how to invest online, you have to begin with trading commodities.
2.  It is more reliable 
Those looking the best option to make some extra money at the comfort of their homes should not hesitate to join online Forex trading.
As long as you have a smartphone, a desktop, and a stable internet connection, you can climb your way to become a top Forex trader.
Online Forex trading is more reliable in terms of time and accessibility. You have all the time to research the financial market and invest your money where you want. With long hours at your disposal, you can research widely before deciding to trade.
You can venture in online Forex right in the comfort of your home. You don't have to travel or make some phone calls; everything happens with a click.
It is also more reliable for those who want to trade on a part-time basis. Traders can choose any time they want to trade by simply logging in to their online accounts.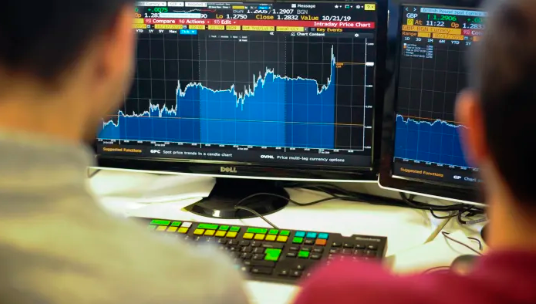 Photo: Learn to monitor market trends before investing in online Forex trading
                                                                   Source: Financial Times 
3. No hidden costs 
There are no hidden costs in online Forex trading. When you have some money to invest, nothing should stop you.
There are no government fees, exchange fees, and clearing fees you'll incur. Also, when you register with online Forex brokers, they don't charge you any subscription fees. These brokers earn some compensation through a 'spread.'
Under a normal market condition, you are not likely to spend any extra coins when you invest in online Forex. This makes it one of the most lucrative investments in the financial market today.
4. High profitability 
In online Forex trading, the returns on investment are very high. That is the only reason it is gaining popularity in the current financial market.
Whether you are a beginner or an experienced trader, you can always learn how to invest your money and earn a fortune in online Forex trading. With the right calculation, you can quickly multiply your initial investment over time.
It's very easy to make money in online Forex trading. For example, if you forecast that a currency is soon going up, you can proceed to buy it.
Alternatively, if you anticipate that your currency is going down, you sell it. That is how Forex trading works. It is a two-fold market where you monitor two currencies to trade.
When online Forex trading becomes your part-time work, you can make some reasonable profits to boost your income. All you have to do is ensure you are making the right moves before you trade.
5. High liquidity 
The online Forex market is one of the largest financial markets, trading over $2 trillion annually. That makes it very liquid.
With its low barriers, you can feel free to enter and exit the market. You have everything under your radar; you can monitor the market and know when the right time to trade is, and when it is right to quit.
Since there is always someone willing to take your deal, you can easily buy or sell your currency and exit trading. Online Forex may look like a more secure and quick way to make money online.
When you register with a reliable trading platform, you can program when to start and stop trading. When you've made your profits or achieved a limit order, you are always free to stop trading.
Final Thoughts 
There is a lot of room in the online Forex market for anyone intending to invest their money. This financial market is one of the most lucrative and fast-growing with vast rewards for smart traders.
If you've made up your mind to invest in online Forex trading, you should not hesitate to take the first step.
Online Forex is a free market, and no one can manipulate how it operates.  So, you don't have a reason to lag when others make money from their beds' comfort.