Creating a personal budget and tracking it regularly can seem like a bit of a chore, but it's incredibly beneficial and actually kind of fun once you get into it. You can easily be surprised at how many little things are adding up in your outgoing expenses, and it can become a personal game of trying to add more to the "green" column than the red.
In this article, we're going to share some tips with you on how to easily create a personal budget, and maintaining it with freely available tools.
A simple spreadsheet tracker
Perhaps the simplest way to track your personal budget is to create a spreadsheet. Any office spreadsheet software should work for this, but Google Sheets is quite handy and entirely free.
Here's a screenshot of a very quick example spreadsheet budget tracker made in Google Sheets. As you can see, paydays / incoming money are on the left, while outgoing expenses are on the right. The outgoing expenses have been categorized by "Utilities" (i.e. necessary expenses) and Misc. (unnecessary expenses).
In your own spreadsheet, you can of course be as detailed and categorize as many things as you want. However, you should aim for the principle of keeping it simple, so that updating your spreadsheet doesn't become a chore.
You want it easy to navigate and read, so that you can open it even on your smartphone, and add to the outgoing expenses the minute you walk out of a convenience store, or restaurant.
When dealing with spreadsheets, you just need to follow basic math formulas to automatically update things like your total remaining balance. So for example, in this spreadsheet, under the Remaining Balance column we added this formula: =sum(B2:B4-D2:D9). This simply adds the total incoming column, and subtracts the total outgoing column, to create the total remaining balance. For the "Total Spent on Misc." cell, we simply used =sum(D6:D9), to add all those cells together.
This is a very quick and convenient method of planning your budget, as you only need to add new incoming/outgoing cells and update the =sum formulas accordingly with the new cell numbers.
For tracking expenses on a weekly or monthly basis, it's quite simple to just group rows of columns together, so that you can easily collapse entire rows at once.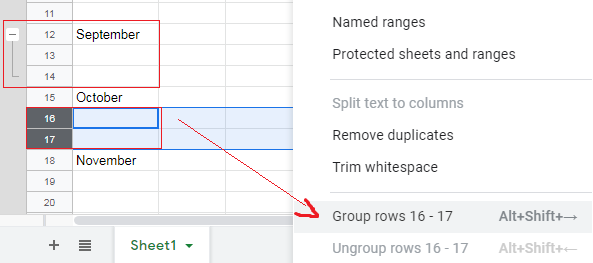 As you can see, when rows are grouped together, it creates a 'collapse' button (as seen next to September) that will just neatly collapse all the grouped rows, hiding them from view until you uncollapse them. To do this, you just select highlight a number of rows, and in Google Sheets, you click Data > Group rows # – #.
Using advanced budget templates
If you need to track many expenses, the most basic budget tracker example we gave above won't serve. You'll need more advanced budget templates, which can also be used in Google Sheets. This will offer more unique data and rows for you to track your budget with.
By maintaining a personal budget sheet and keeping it updated frequently, not only will this help you better plan your budget and figure out where unnecessary expenditures are being made, but it can also really help during tax filing season. For example, you can keep a column of "tax deductible" items that you update throughout the year, so it's ready for reference when it's time to file.
Ultimately, many of us overlook the importance of personal budgeting. This is very different to the business world where most companies need to budget or risk failure. You should learn to budget as an individual and it will help you immensely should you ever decide to start your own business in the future. Foundr's guide can get you started.