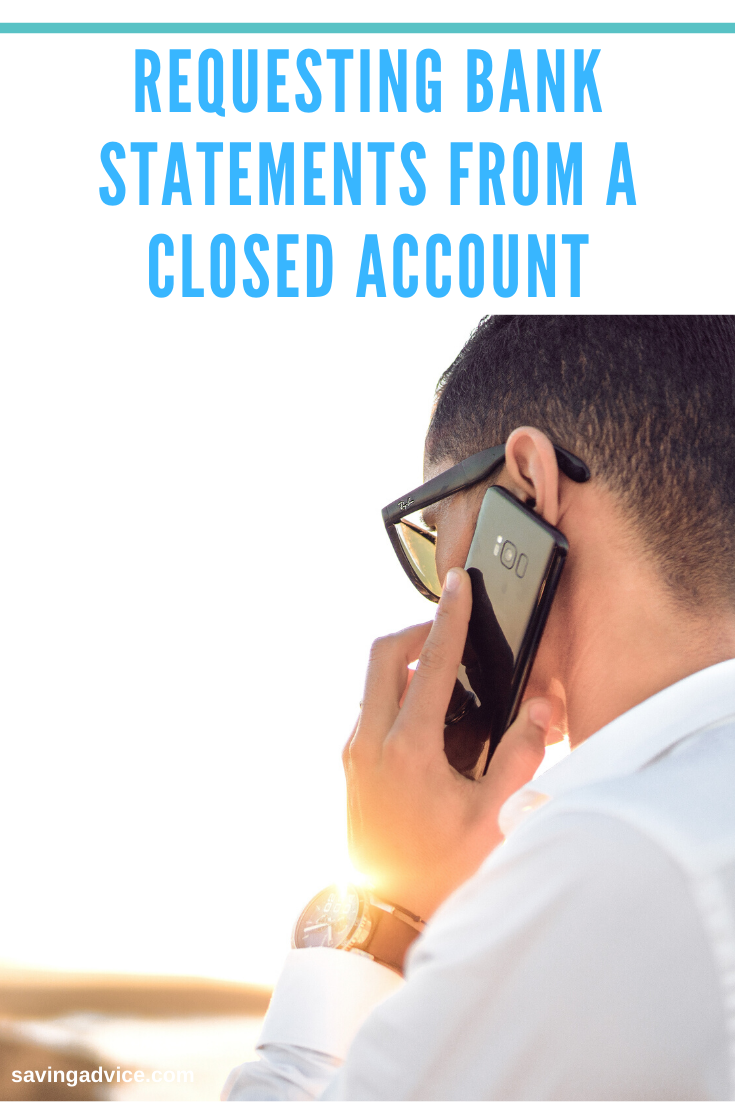 Bank statements are important financial records. They list every transaction that happens in a given account and may be critical resources if you are dealing with some kind of financial dispute. If the bank account is open, getting copies of bank statements is relatively easy, as they are usually accessible online. But, if the bank account is closed, that isn't always an option. If you are wondering, "Can I get bank statements from a closed account?" here's what you need to know when requesting bank statements from a closed account.
How Long Banks Have to Keep Statements on File
By law, banks are required to keep the majority of financial records relating to individual checking and savings accounts for a minimum of five years. This includes details about closed accounts.
As long as you are requesting bank statements that are five years old or less, your financial institution must have that information stored. Otherwise, the bank is in violation of the law.
Requesting Bank Statements from a Closed Account
If you need to get a bank statement from a closed account, you usually can't access it online. Most financial institutions only provide online access to these documents to current customers and for open accounts. However, it doesn't hurt to look if you still have your login credentials. If they are there, then you can print them or save them yourself. If not, then you'll need to complete some additional steps.
Luckily, requesting bank statements is a fairly straightforward process in most cases. However, the steps can vary from one bank to the next. As a result, the first thing you should do is contact your bank by phone. That way, an employee can provide you with an overview of the process.
Depending on the bank, you may be able to request bank statements over the phone, in a letter, or in-person. In all of those scenarios, you will have to complete steps to verify your identity, ensuring you have rightful access to the information. You might have to provide your full name, date of birth, Social Security Number, and mailing address. In some instances, they might request the account number of the account in question.
If the bank requires these requests to be made in-person, you'll need to bring appropriate photo identification. Usually, a driver's license, government-issued ID, or passport will work.
Defining Your Bank Statement Request
After providing your identity, you'll need to provide additional details about your request for bank statements. Typically, you'll need to give a date range that covers all of the statements you want.
If that entire date range falls within the last five years, all of the statements should be available. Anything outside of that five-year window isn't required to be kept by law. However, some banks do have records that are older, so they might be available if you ask for them.
Bank Statement Reprint Fees
Banks are allowed to charge a fee for any bank statement reprints. The amount of the fee can vary, though usually falls in the $1 to $5 range for each copy of an individual statement.
For example, Bank of America charges $5 per statement copy. If you need three statements (one copy of each of the three statements), you would be charged $15 for the service. If you needed two copies of a single statement, that would cost $10.
Receiving Your Bank Statement Copies
How you can receive your bank statements also varies from one institution to the next. If you make the request in-person and the records are immediately accessible, an employee might be able to print them and provide them to you right away. When making a request by phone or mail, you might be able to arrange to pick up the statements from your bank or to have them mailed.
In cases where the records are archived, immediate access might not be possible. It could take an employee a few days to receive the information, so you'll have to wait to pick them up or request that they are mailed once they are printed.
Requesting Statements for a Deceased Person's Account
If you need bank statements from an account that is closed and the original owner of the account is deceased, then you typically need to make this request in person. The banks will need to confirm your identity, the fact that the owner is deceased, and that you have a right to access the information.
Along with providing the bank with your picture ID, expect to be asked to see the deceased's death certificate. This shows the institution that the original owner has passed away and that there is an official record of the death.
Usually, you'll need to be the administrator or executor of the deceased's estate to be able to access those statements. You must have documentation that shows you are designated to perform that role.
Once the proper documents have been shared, the process is the same as it would be for a living person with a closed account. You'll need to outline the statement dates, pay any required reprinting fee, and select a delivery method based on what's available.
Getting Bank Statements from a Failed Bank
When a bank fails, getting statements can be trickier, but it isn't impossible. First, you need to determine if the failed bank was acquired by another institution. If so, that is the entity you need to contact. Then, that institution can let you know what steps you need to take to get those statements.
If the bank's holdings are being managed by the Federal Deposit Insurance Corporation (FDIC), you'll need to reach out to the FDIC to make a request for the statements. You can contact the FDIC by phone at 1-800-523-8089.
Have you ever had to request bank statements from a closed account? Tell us about your experience in the comments below.
Read More:
If you enjoy reading our blog posts and would like to try your hand at blogging, we have good news for you; you can do exactly that on Saving Advice. Just click here to get started.