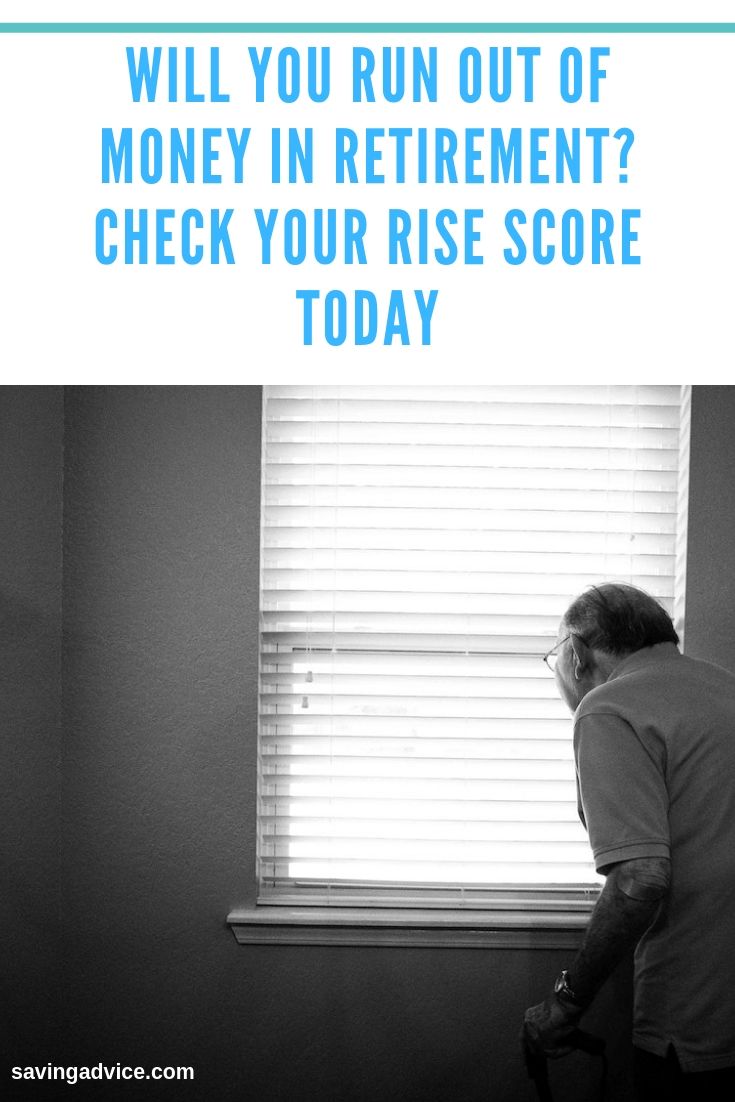 Have you checked your Retirement Income Security Evaluation (RISE) score yet? Most of us do our best to plan for retirement. However, it's really hard to know whether or not we're doing enough.
It can seem like we must need an impossible amount to live well in retirement. On the other hand, we generally aim for fairly realistic savings that we can accomplish without compromising our current lifestyle. Yet, we don't want to reach retirement only to run out of money.
Your RISE score can help give you a realistic picture of your money in retirement.
What is the Retirement Income Security Evaluation (RISE) Score?
RISE is an acronym for Retirement Income Security Evaluation. It's a new tool available to consumers who are interested in checking the pulse of their future retirement income. If you want to know whether or not you're going to be able to make your money last through retirement, then it's a tool that you might want to check out.
After entering some basic information, you'll receive a score. It looks a lot like a credit score. Over 750 is "excellent," and under 350 is "very poor." There's a reason for that. We all have a solid understanding of our credit score. When it's bad, we know we need to take action to make it better. The RISE score is the same way. A bad score doesn't mean that you're doomed to a future in poverty. It means that you need to take steps to improve your retirement income.
How Does RISE Work?
You can easily go online to access your RISE score. You will anonymously enter basic information including your age, gender, and health (on a four-point scale from very poor to excellent). Then you will enter certain financial information, including:
The amount you have in savings
Current monthly income
The income you expect in retirement from social security, pension, or other sources
Estimated expenses including monthly living costs and medical costs
You can enter these as an individual or choose to enter them jointly with your partner. If you don't have the exact numbers, you can use the estimated averages that the tool provides. However, you will obviously get the best picture of your own retirement income situation if you enter your own information as exactly as possible.
The more you know about your money, the better the tool can help you. For example, when you enter your estimated monthly living expenses, you have the option to list if the dollar amount you give is current (nominal) or future (real). You also can choose whether or not to adjust for inflation. The more accurate and detailed you can be, the better.
Who Should Get Their RISE Score?
There is definitely a target market for this tool. It's designed for people who are at least 45 years of age. It's particularly useful for people who have assets of $75,000 – $2,000,000 that they can invest. That's because if you discover that you are going to need more money in retirement, your best course of action is to make proper investments now.
The tool isn't going to be particularly helpful for people who don't have a fairly steady income. If you don't have a pension coming, and you can't anticipate what your social security payments will be, then the tool can't provide you with very accurate information. Likewise, if you're wildly off when guesstimating your monthly expenses, then the tool's score might not be accurate.
That said, you can use the tool at any age from 25-85.
How Reputable is the RISE Score?
This tool was developed by Milliman, which provides a variety of different financial tools. Alliance for Lifetime Income, which is a non-profit organization whose purpose is "helping Americans address the risk of outliving their retirement income," launched it. The financial services industry backs that organization. Therefore, it's a fairly reputable tool.
Of course, the tool is new, which means we haven't been able to see the test of time. We don't have information yet to reveal whether the information it provides will hold water when retirement time comes. Moreover, it's just one tool. You certainly can't bank your entire financial plan on this one score.
Nevertheless, it's a good starting point. If you've ever questioned whether or not you're going to have enough money in retirement, then the RISE score is a good next step.
RISE Helps You Plan for the Future
The whole point of this tool is just to get a general picture of your retirement income's health. Then you have to take the information and put it to use. The idea is that this information can assist you greatly in determining how to make smart moves for your financial future.
Choosing Your Investment Approach
There's actually a part of the tool that helps with this. As you enter your information, you come upon a page that asks you to choose from one of three descriptions that "best describes your current self-determined retirement approach." They provide some additional supporting information to help you choose. The three choices are:
Conservative, in which you have 20% equity and 80% bonds, and will probably want to minimize risk.
Moderate, which is 60% equity and 40% bonds, and you're open to some risk in order to get long-term rewards.
Aggressive, the inverse of conservative (80% equity, 20% bonds), where you're willing to take lots of risk to maximize returns.
Even answering this question can get you thinking about how the choices that you're making will affect your financial future. The tool itself considers your choice as it helps you plan.
Helping You Figure Out The Effect of Annuities
In a second section, you'll see a question about how much money you'd be willing to put towards annuities. The tool explains why they are an important part of your retirement portfolio. They note that "the average retired American portfolio allocates 20% to annuities." However, you can choose any percentage that you would like. You can see how changing the percentage changes your financial future.
Taking Next Steps
Much like with a credit score, when you get your RISE score report, it provides you with some information to help you take the next steps. First, it tells you which category you fall into. For example, a score of 550-649 is considered fair. You'll get some tips about how people with fair scores can improve things.
You'll also get some specific tips about how to easily boost your score. For example, mine said that increasing my annuities to 20% would boost me up by about 16 points.
The next step is to take your score to a financial advisor. You can work with them to figure out how to make the right changes to secure your future retirement.
Read More: