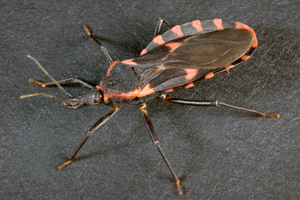 Centers for Disease Control and Prevention officials confirmed the migration of the kissing bug into North America. Here's what you need to know about the insect and the potentially deadly disease it carries…
What is a Kissing Bug?
Triatomine bugs, also known as the kissing bug, carry Chagas disease and can infect humans with their bite, according to the CDC. Currently, Chagas disease is only found in the Americas. More specifically, it is found in the rural regions of Latin America. However, more recently, cases of the disease in the United States have been confirmed.
The bugs get their "kissing" nickname because of the location they typically bite people. Oftentimes, triatomine bugs bite people's faces, but just because you've been bitten doesn't mean you'll contract the disease.
CDC officials say that transmission of Chagas is not that easy. The bugs typically suck a person's blood after biting them, similar to a mosquito, then they defecate immediately afterward. If the infected feces enters the body, an infection may occur.
Congenital transmission is also possible. Chagas can be transmitted from a pregnant woman to her baby, through blood transfusion, contaminated food, and even organ donations.
Where Kissing Bugs Hide
Kissing bugs can be found hiding in cracks and corners of your home. Typically, they come out at night and approach people while they are sleeping. If a bug bites and defecates on you while you are sleeping, it would be easy to accidentally rub feces into the bite or your eyes or mouth.
A girl in Delaware was recently bitten and the family believes the bug was hiding in the air conditioner in her window. Thankfully, the young girl did not fall ill.
Diagnosis and Treatment
To be diagnosed with Chagas, you have to have a blood test. Most people with the disease may have little-to-no idea that anything is wrong. Common symptoms are also associated with a number of other common diseases (body aches, diarrhea, fatigue, fever, headache, loss of appetite, rash, and vomiting). Most people don't even consider Chagas as a possibility.
Other symptoms that are more uncommon may include an enlarged liver or spleen, swollen glands, and swelling around the bite itself.
Chagas can be chronic and many people don't have any of the symptoms above. However, it can be fatal if certain complications arise. Cardiac and gastrointestinal complications occur in 20 to 30 percent of people who have Chagas and can lead to death.
With early diagnosis, an antiparasitic treatment can kill Chagas. Those with chronic Chagas can also benefit from treatment. There is no drug or vaccine to ward off the disease though.
How to Avoid This Deadly Insect
Surprisingly, more than 300,000 people in the Americas have been infected by the kissing bug. Most infections that have been reported occurred in Latin American countries.
That isn't to say folks in the U.S. are safe from the deadly insect or disease. There have been 11 sightings of kissing bugs in the States, mostly in the South.
When it comes down to it, folks living in the U.S. who aren't traveling to Latin America are probably safe from contracting the disease. If you're traveling, it is recommended you sleep indoors in a building without cracks. It is also a good idea to check any uncooked food and unpeeled fruits for the bug as well.
Read More