One of the biggest killers for investment performance over time is high fees. It used to be that many mutual funds would charge a fee for buying, an annual fee based on the balance invested, and a fee when the fund is sold. For most investors, those days are thankfully long gone. Vanguard started the push for lower fee funds, and nearly every online broker has followed suit.
But the lowering of fees is mostly seen in taxable and IRA accounts. In the world of 401(k) plans, this is not always the case. Many 401(k) plans still have investments with fees that are three to four times higher than what one would see when investing in an IRA.
Not only do many employees pay a high annual fee on the funds they invest in with their 410(k) plan, they also pay an annual administrative fee. Most people have no idea they are paying such an administrative fee, and many have no idea what the annual fees on their funds are inside their 401(k) plan.
Finding Your Fees
The administrative fee on a 401(k) plan can be difficult to find, which means you would need to ask your Human Resources director or person in charge of the plan for that information. But the annual fund fee, known as the expense ratio, is now easier than ever to find thanks to all of the great financial planning software and tools available to the public. I used WealthTrace's financial planning application to view the fees on several ETFs.
Not only can I see the expense ratio for each fund, but I can also view the total dollars I pay each year in fees along with the fund turnover. For taxable investment accounts, the turnover can really make a big difference in taxes. The higher the turnover, the more in capital gains one usually pays.
How High 401k Fees Can Crush a Portfolio
Most of us know that investment gains compound over time as more money is reinvested. But fees work the opposite way. They are a negative and therefore compound negatively over time. I looked at a portfolio that has a balance of $700,000. I ran a fee what-if scenario where the annual fees on all investments were increased by 0.5%.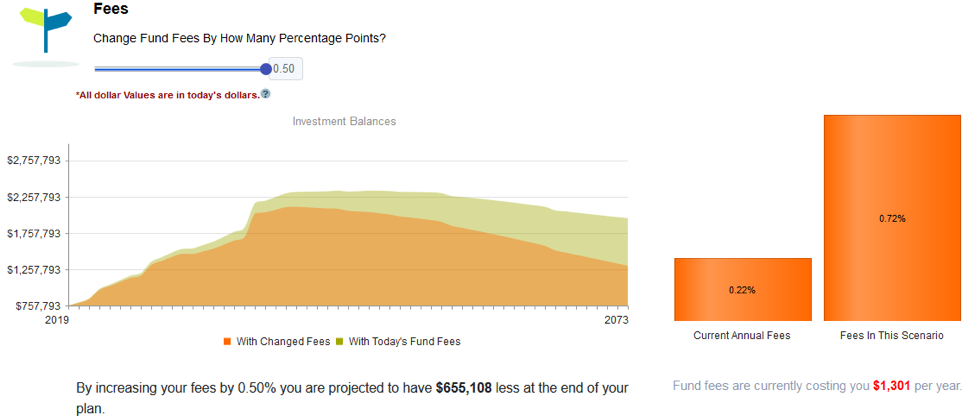 The portfolio value was reduced by over $655,000 over 30 years. This value does not even take into account inflation over that time frame either. The result is in today's dollar terms. This just shows how even a small increase in fees can have a huge impact on retirement investments. A hit like this can mean that even $1 million might not be enough to retire on.
What You Can Do
If you have an IRA or taxable investments, make sure you are not paying too much in annual fees. Look for the expense ratio for your funds. For most funds that are not actively managed, you should not be paying more than 0.15% per year. Vanguard is usually the best in terms of fund fees so I always recommend starting there.
For 401(k) plans you should look for your expense ratios. Make sure your company offers index funds with fees that are at least below 0.4%. They should also offer a target date retirement fund that reallocated your investments towards a more conservative approach as you get older. These types of funds are great for those who do not want to worry about reallocating their investments over time. The fund does it for you!
You should also ask the person in charge of your 401(k) plan what the administrative fees are. If they are more than 0.5% per year, you should ask if they can change 401(k) providers. The 401(k) provider industry is becoming more competitive, and more and more companies are moving to Vanguard, which as mentioned earlier, is always a great place to start when trying to lower fees.
Lastly, it is a good idea to roll over a 401(k) to an IRA if you leave a company or retire. This way you will have access to thousands of funds with lower fees. You also will get rid of any administrative fee you are currently paying.
Read More: