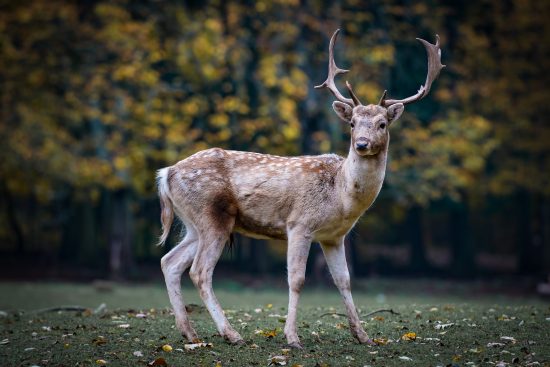 Many people have turned to venison, or deer meat, to help them save money. However, a new disease may be passed through infected meat – and this isn't your typical stomach virus. Health officials are concerned a zombie deer disease may spread through infected deer meat.
The Spread of Zombie Deer Disease
Obviously, no one is saying the zombie apocalypse is upon us but doctors are concerned about what eating the tainted meat may do. Currently, any deer that has been infected has had its brain and spinal cord "eaten" by a parasite of some sort. This has led to its name in the media: Zombie Deer Disease.
While it seems like something you'd see in a horror film, there is nothing fiction about it. According to The Hill, there have been reported cases in 24 states and two Canadian provinces ass of January. Areas that have been heavily impacted by this disease have been in the American West and Upper Midwest. This includes states like Illinois, Wisconsin, and Minnesota.
"It is probable that human cases of chronic wasting disease associated with consumption with contaminated meat will be documented in the years ahead," said Michael Osterholm, director of the Center for Infectious Disease Research and Policy at the University of Minnesota. "It's possible the number of human cases will be substantial and will not be isolated events."
Chronic Wasting Disease
Chronic wasting disease, or CWD, spreads through deer in contaminated bodily fluids, drinking water, and food. It was first spotted in wild animals 40 years ago. In the late 1960s, it was also found in captive deer. Between 7,000 to 16,000 animals in the U.S. are infected with CWD every year.
Numerous studies have shown it can be transmitted from deer to other animals, even primates. While no human cases of CWD have been documented, it is possible it could pass on from infected meat to humans.
Researchers are likening the likelihood of falling ill to that of the Mad Cow epidemic in the early 2000s. Keep in mind, 156 people in the United Kingdom died from Mad Cow Disease. So, how do you keep yourself safe from the zombie deer disease?
How to Avoid Falling Ill
There are some state and local regulations that would prevent humans from consuming any infected meat. However, Osterholm believes more oversight is needed in the process. He pointed out that if any infected venison was to make it into a processing plant, there could be a large-scale outbreak. Right now, there is no information on how ingesting infected deer meat may affect humans.
The best way to avoid falling ill with CWD or "zombie deer disease" is to avoid eating any venison that isn't processed through a plant. If you kill the deer yourself, consider having it professionally butchered to ensure your meat isn't rotten.
Lastly, be sure you are cooking everything to the correct temperature. Deer meat needs to be heated to a core temperature of 145 degrees Fahrenheit.
Readers, do you eat deer meat? Are you at all concerned by the zombie deer disease?
Read More