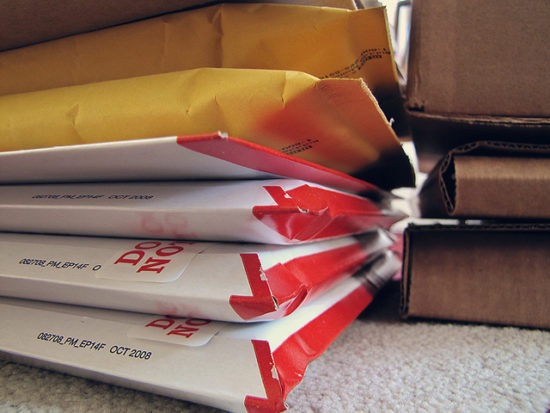 Friday, December 14 is free shipping day. Shoppers around the country jump online to take advantage of not paying for home or business delivery, as well as several other potential perks. But, even if you don't have to pay for shipping, is it worth shopping on free shipping day?
What is Free Shipping Day?
Free shipping day is an annual event that takes place each December. Over 1,000 online retailers allow shoppers to make purchases without paying for delivery, and the number who join grows larger every year. While free shipping day was a big deal when it began around 10 years ago, the number of participating retailers now is truly astonishing.
Benefits of Free Shipping Day
The core benefit of shopping during the event is in the name; you get free shipping. What shipping entails can vary from one retailer to the next. For example, some retailers provide free "standard" shipping, which usually means receiving your items within seven to 10 business days, though each store may offer a different timeline. Specific online stores may make their two-day shipping option free for the event while others will still charge for this accelerated service.
As a bonus, most of the online retailers that participate guarantee that you'll receive your items before Christmas if you shop on free shipping day and choose the free option. This is often an amazing perk as it makes paying for faster shipping feel less necessary, even if you are buying gifts for the holiday.
Many stores also run sales in conjunction with free shipping day. You could find discounts on great gift items, as holiday shoppers are mostly the target market, so keep your eyes out for deals if you choose to participate.
Which Stores Participate in Free Shipping Day?
While the list of participating retailers changes a bit each year, for 2018, more than 1,000 online stores are taking part. They encompass nearly every category imaginable, from apparel to home goods to electronics to pets. Here are just some of the retailers who are taking part in the free shipping day event:
American Eagle Outfitters
Banana Republic
Bed, Bath & Beyond
Best Buy
Cabela's
Carter's
Crate & Barrel
Forever 21
GameStop
JCPenney
Macy's
Overstock
PetSmart
Staples
Target
Walmart
How to Get Free Shipping
On Friday, December 14, 2018, head over to your preferred store's website and look for the free shipping day offer. Since each store can make their own requirements, you'll need to review the offer details to learn about eligibility.
Some retailers apply the free shipping perk to every sale, while others have minimum purchase requirements to qualify for free shipping. Similarly, certain product categories or specific items may not be eligible for free shipping. You'll find those details in the offer.
In some cases, the offer will list a code that you have to enter to activate the free shipping benefit. When that happens, note the code and, when you go through the checkout process, enter it into the appropriate blank and apply it to your purchase. At times, there may be additional instructions regarding what you need to do, so read the offer thoroughly.
If there is a code, it's important to note that you might not be able to use other discount codes with the free shipping code. Many stores limit shoppers to a single code, so you might not be able to stack them. However, this can vary by retailer, hence why reading the free shipping day offer is so important.
Also, keep in mind that, for online stores with marketplaces featuring third-party vendors, third-party sellers may not participate in free shipping day even if the main website does. That decision is up to the seller, not the main website, so make sure to check their shipping policies carefully before making a purchase.
Is Free Shipping Day Worth It?
Free shipping day only provides value if you use it properly. For example, if you end up making impulse purchases just because of the free shipping, you might not come out ahead.
Similarly, free shipping doesn't automatically mean you are getting the best deal. Before you make a purchase, comparison shop on other sites, including those who aren't participating in free shipping day. If you can find a lower price for the items elsewhere, see if you are actually saving after calculating shipping costs. In some cases, even if pay for shipping, you might spend less by shopping at another store.
Codes For Free Shipping
Along the same lines, if you have to use a code to get free shipping and you have another discount code available, you may need to see which one gives you the best deal if stacking isn't an option. While some retailers may allow you to use multiple codes, many don't. Examine your order both ways before proceeding.
For example, if you have a 10 or 20 percent off code and can't use it with the free shipping code, look at your order with the percent-off code applied. Then, remove that discount and apply the free shipping code. See which total is less. If you can get a good guaranteed delivery date either way, select the approach that saves you the most money.
If you find a good deal and need that Christmas delivery guarantee for peace of mind, free shipping day can be a great day to shop. Just avoid making unnecessary impulse purchases to keep your total within budget and don't forget to comparison shop before you finalize your order. That way, you can make sure you are coming out ahead in the end.
Do you plan on taking advantage of free shipping day? Tell us your thoughts in the comments below.
Read More:
If you enjoy reading our blog posts and would like to try your hand at blogging, we have good news for you; you can do exactly that on Saving Advice. Just click here to get started.
Photo: lisaclarke
Like Saving Advice? Subscribe!
Subscribe to get the latest Saving Advice content via email.