Relatively small "lifestyle" changes can have MASSIVE effects over the course of one's life. Whether you have a weakness for eating-out, heating your house to 80 degrees, or everyone's favorite punching bag, upscale coffee – understanding how small amounts build, and what they can "buy" you later in life – is critical to creating a secure financial future.
So, let's pick on coffee one more time – say you're a fresh college grad with a mild macchiato addiction. Of course, this could alternatively be replaced by a weakness for lattes, mochas, or any of a number of delicious coffee-based concoctions. We'll assume the habit remains more-or-less consistent throughout your life.
Now, to the numbers…
Three macchiatos per week, that's $15. Over the course of one's life (3,536 weeks * $15), that's $53,040. Assuming 3% inflation, you're looking at $115,054. Ouch.
By brewing at home, however, and purchasing one macchiato per week – you could save about $500/yr. What if that $500 was invested in a moderate risk, tax-deferred account? Using OnTrajectory.com (software for building a "Personal Financial Model") to see the full financial impact.
This software allows you to enter all of your Income streams, Expenses, Investments, etc. – and map all the data to show your financial future. To illustrate this scenario the following data was used: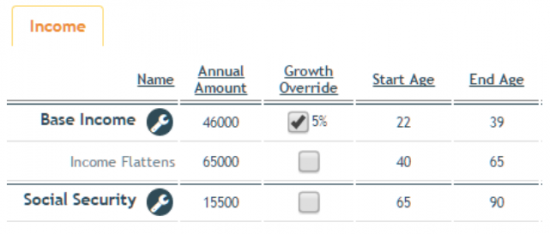 Income:  This college grad has a pretty decent job – maybe an entry-level computer programmer or something hot like that. This example assumes an average 5% raise per year until the age of 40. Thereafter, their salary is assumed to keep pace with inflation.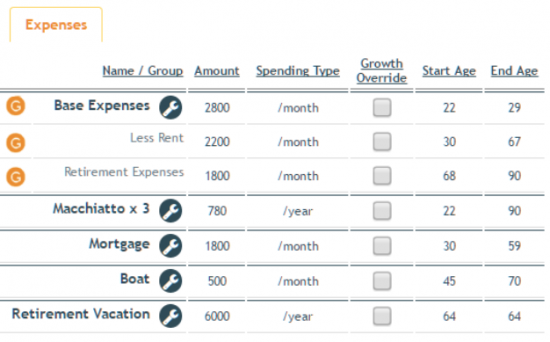 Expenses: This example was modeled with "grouped" recurring expenses in three age ranges:
Ages 22-29 includes rent,

Ages 30-67 includes the purchase of a home,

Ages 68-90 includes basic expenses dropping during retirement years.
In addition, we see this individual is planning to purchase a boat at 45, and also plans for an extravagant vacation later in life. Finally, we see their coffee expense broken out separately at $780/year.

Accounts & Taxes: This individual has just one investment account. They are planning for 5% growth before retirement and 3% after. Their effective tax-rates are based on their income level. They don't have any tax-deferred/retirement accounts or any other types of investments defined.
Subsequently, their financial trajectory looks like this:

We can clearly see how funds accumulate at different rates during different periods in their life. The steep increase at 60 is a result of the mortgage being paid-off – but as you can see it's not quite enough, and this individual runs out of cash at the age of 88 and is $139,713 in the hole by age 90.
Now, by making some relatively small changes in their life, and by taking advantage of a Retirement account – they can produce a completely different outcome. By reducing their coffee expense from $780 to $280 per year, and investing the savings into a tax-deferred retirement account with an average rate of return of 5% (which is the average for moderate-risk mutual funds) – here's the final result:

Notice that not only do they stay financially afloat throughout life, there's a tidy $320k surplus at the end.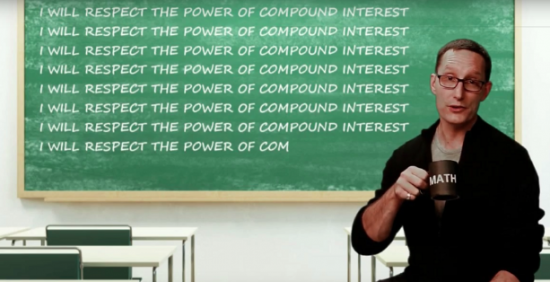 This is the MATH of compound interest – and it's powerful stuff. The truth is, small lifestyle changes CAN have half-million dollar impacts over the course of one's life. Using a tool like OnTrajectory can help you identify and visualize those impacts.
DISCLAIMER: Please be aware that no information contained in this communication should be considered investing advice. All financial information is solely for educational purposes. Please see your own professional for personal investment advice.
Read More