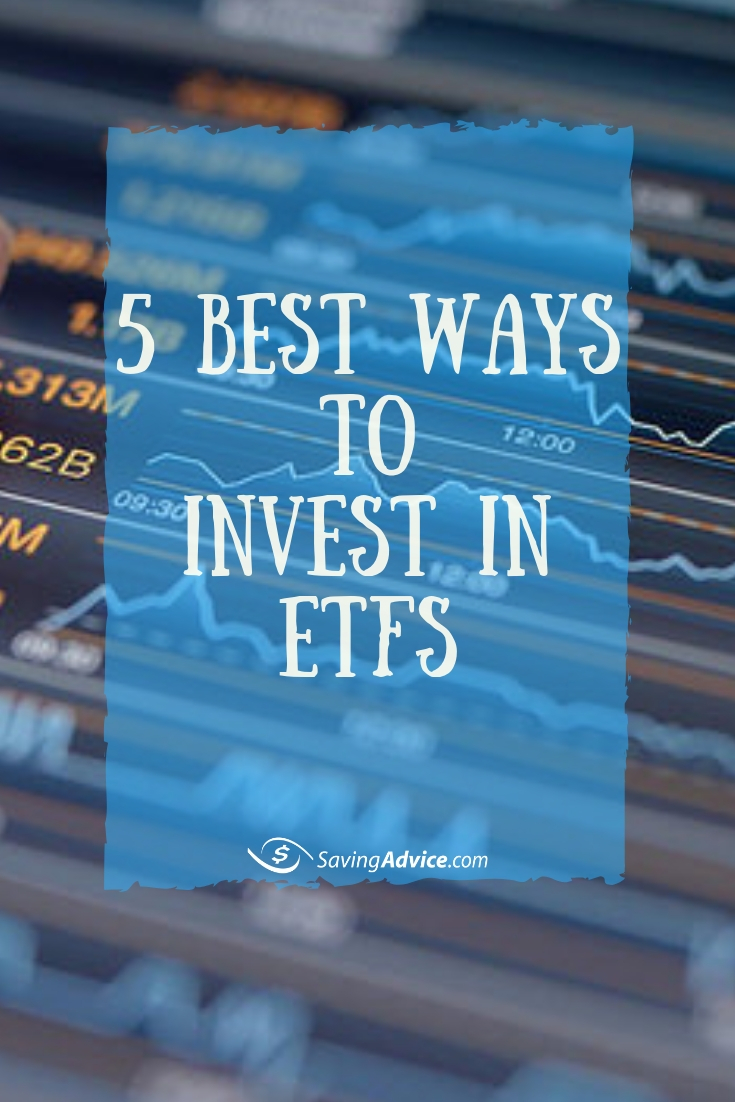 Exchange-traded funds (ETFs) make great additions to nearly any portfolio. They offer a blend of stocks, bonds, and mutual funds, providing investors with an inherent level of diversification. However, that doesn't mean you shouldn't make sure you approach investing in ETFs in the best way possible.
Investing in ETFs for Beginners
Often, ETFs are a great addition to anyone's portfolio. Beginners, in particular, may benefit as it allows a certain degree of diversification automatically. This can make getting started a bit less daunting, while simultaneously reducing risk.
If you want to make the most of your ETF investments, you need to use an approach that helps you make the most of your money. Here are five of the best ways to invest in the best index funds.
Look for Commission-Free Options
In the market, ETFs trade a lot like stocks. Usually, this means you have to pay your brokerage a commission when you execute a trade. While the fee may be fairly low, they can add up fast, especially if you are a pretty active trader.
However, some online brokerages give you the ability to trade hundreds of ETFs commission-free. If you are specifically interested in investing in ETFs, it's wise to explore your options until you find a brokerage that offers this perk. That way, you can keep more of your money in your pocket (or in your investments) than you otherwise could.
Time Your Trades Wisely
While trying to time the market as a whole is practically impossible, there are certain times of day where the level of price volatility is higher. Usually, at the open and close of the market, trading is a bit hectic. This can lead the price of an ETF to fluctuate dramatically, and you could accidentally overpay when you trade.
Similarly, trades placed after-hours can be costly too. Since fewer people are active during that time, bid-ask spreads could widen. Impatient investors may overspend when they initiate a trade after the market closes, falsely driving the price up.
Usually, during core trading hours the level of volatility goes down with ETFs. This decreases the chance that you'll end up overpaying when you invest, as the price movements are a little less chaotic.
Now, this doesn't mean there is a perfect time to invest in ETFs. Additionally, it isn't impossible to find a good price during the more volatile times. But, if you don't have much experience, navigating the volatility may be difficult.
Learn About the ETF
While an ETF is a single investment, it is comprised of multiple stocks and mutual funds. Before you invest in an ETF, do some research and learn the nature of the fund.
Try to find the fund's prospectus or, at least, the one-page fact sheet. This will give you some much-needed insight into the fund's construction and holdings, ensuring you are selecting an option that works with your goals and preferences.
If you want to make the most of your ETF investments, you need to use an approach that helps you make the most of your money. Here are five of the best ways to invest in the best index funds.
Avoid Herd Mentality
One of the most dangerous things a beginner investor can do is follow the herd. While there is no harm in doing research and hearing what people have to say about an ETF before investing, jumping into one because it's "hot" isn't always the right move.
Over recent years, niche and factor ETFs have been on the rise. These give investors the ability to jump into specific market segments that have the potential to perform well. However, if you get in too late, you end up buying during the high that relates to the excitement and not necessarily the investments viability. Then, when you move to sell, you have to do so at a loss.
While predicting where a market will top isn't entirely possible, always be wary of investing after the herd has already moved. If you are late to the game, it could cost you dearly.
Don't Neglect Bonds
Some beginning investors overlook bonds because they don't always have the earning potential of stocks or mutual funds. However, they can be powerful additions to your portfolio, particularly when part of an ETF.
One study showed that actively managed ETFs with focuses on medium-term, high-quality bonds have great long-term success rates. At times, they even outperformed index funds, an investment option that is typically recognized for strong gains over time.
Bonus Tip: Embrace the Power of Research
Going into any investment blindly isn't a wise move, even when they offer the diversification available in many ETFs. Not all investments in a category perform favorably, and each one represents a different level of risk according to its composition.
Additionally, socially conscious investors need to examine what is actually in each ETF. Since multiple assets make up an ETF, you need to determine whether you are comfortable investing in the stocks, mutual funds, and bonds held therein.
Often, it's wise to look into the fund itself as well as any primary assets in the ETF. While the diversification may prevent ETFs from having significant swings in value, the composition of the assets matters from a risk perspective.
Similarly, make sure to examine your brokerage options carefully. Each one offers different fee structures and minimum balance requirements. Before you sign up, make sure you find an approach that meets your needs at a reasonable price, particularly if you are primarily focusing on ETF and commission-free options are available.
However, if you intend to branch out from ETFs, don't neglect the value or costs of the other investment services the brokerage offers. Keep a big picture perspective before you open an account, as your goal should be to find options that allow you to come out ahead overall.
Do you have any tips for investing in ETFs for beginners? Share your thoughts in the comments below.
Read More:
If you enjoy reading our blog posts and would like to try your hand at blogging, we have good news for you; you can do exactly that on Saving Advice. Just click here to get started.