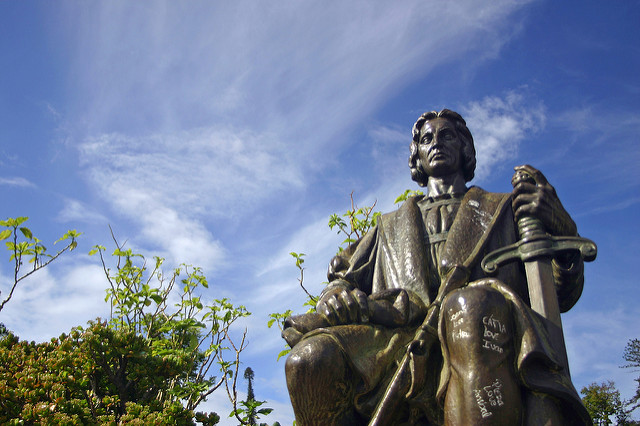 Will schools be closed on
Columbus Day
? The holiday, which is celebrated on the second Monday of October each year, is a federal holiday. Generally, schools close on federal holidays. However, not all states observe Columbus Day.
States That Do Not Observe Columbus Day
For example, states like Alaska, Hawaii, Oregon, South Dakota, and Vermont do not observe the day. Each of these states have decided they would no longer celebrate Christopher Columbus' discovery of the New World in 1492. However, this doesn't always mean they don't observe other holidays on this year's Columbus Day, October 8, 2018.
Other Observed Holidays
For example, South Dakota celebrates Native American Day. The state chooses to celebrate this day instead because Columbus discovered a land that was already inhabited by people (native Americans).
Hawaii observes Discover's Day in honor of the Polynesian discoverers of Hawaii, which falls on the same date. States such as Oregon and Vermont observe Indigenous Peoples' Day. So, although they don't observe Columbus Day, some schools in these states are closed.
Columbus Day is the second federal holiday of the school year. In the past, most schools celebrated Columbus Day, but currently, it's less likely to be observed. As far as public schools go, there is no federal law requiring schools to be open or closed on this day. Each state can choose whether or not to observe the holiday at a government level.
Are Businesses Open Or Closed On Columbus Day?
Most establishments have rules which are a little easier to follow. Retail outlets are usually open. Post offices and banks will be closed. Because of this, you can expect a one-day delay in processing through USPS or your bank on Columbus Day. Convenience stores, liquor stores, grocers and many other businesses will remain open on Monday, October 8, 2018. Libraries typically close in observance of the holiday. Public transit will still be available, but some cities will slow down to a weekend schedule.
Are Schools Open or Closed On Columbus Day?
When it comes to most businesses, Columbus Day schedules are pretty black-and-white as to whether they will be open or closed. Schools, however, are a bit trickier to figure out. It takes a bit of digging to find out whether schools will be open or closed on Columbus Day. There is no real set standard as to whether or not your school district will remain open on Columbus Day. Often, schools on the East Coast close in observance of Columbus Day and most schools on the West Coast remain open.
Keep in mind that this isn't set in stone. Students in larger cities like Los Angeles, Dallas, and Miami will typically have to go to school, while students in cities like New York, Washington D.C., and Chicago might have the day off.
Consult Your School District's Calendar
If you aren't sure whether your school district will have class on Columbus Day, look at the district's online school calendar. Plus, if there's no school, your kids will probably be sure to let you know. You can also call the school to confirm whether it will be open or closed. Chances are, your child will have school, as Columbus Day is observed and celebrated less and less.
For more on this topic check out our article on why schools might be open on Columbus Day.
Photo Credit: Claus Rebler