It is becoming more and more clear that that many cities and states will never be able to fulfill their pension promises. Over the past 20 years most states and many cities have been increasing pension benefits. These benefits plus health care for public employees is at an unsustainable pace. This will eventually lead to underfunded pensions.
Because of the gigantic hole that many cities and states now have, it is pretty much a certainty that we will see many Detroit-like bankruptcies in the near future.
Underfunded Pensions Deficits Are Massive
The current estimate for how large the pension deficit for cities and states is tops the $5 trillion mark. Incredibly, that is equal to nearly 1/3 of the United States' annual GDP.
We have seen cities already slash the pension benefits by up to 55%.  As an example, the city of Central Falls, Rhode Island did in 2011. This is probably a worst-case scenario for many cities. Even a 10% hit to pension payments can devastate a retirement plan.
Retirement Planning What-Ifs
Between those of us who worry about our promised Social Security benefits and those who now fear their pensions might be cut, it is difficult to plan for retirement these days. However, we can at least run some what-if scenarios to see how much pain we might be able to handle if our promised benefits don't come to fruition.
To test out how a typical retirement plan might be impacted by a cut in pensions, I ran some scenarios in the WealthTrace Retirement & Financial Planner. These scenarios can be run by anybody, without the need to hire a financial advisor.
I set up a 57 year old couple that has a retirement age goal of 67. Their Social Security is projected to be $42,000 total each year. The wife has a promised pension of $45,000 per year in retirement. They projected their annual expenses to be $73,000 each year once they retire. Their IRAs have a combined $30,000 in them.
Because of their combined income from Social Security and the pensions, they can cover their expenses fairly easily every year in retirement as you can see below.

But what if the city that is paying out the pension declares bankruptcy? I ran some what-if scenarios on this situation. The scenario shows where the pension payments are cut by varying amounts. You can see the results below.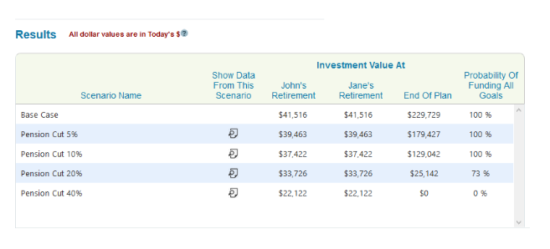 You can see that as their pension is cut by 20%, their probability of meeting all of their retirement goals begins to drop quickly. This probability is determined by using Monte Carlo analysis.  This analysis which runs 1,000 scenarios on their plan, shifting the rates of return on their investments in every year based on historical data. If their pension is cut by 40%, they are guaranteed to run out of money in retirement.
What Can Be Done?
If you or your spouse are depending on a public pension, you should research the health of your city or state. Are they way underfunded? If so, you might want to run some scenarios on your pension. This will help you to see how much of a hit you can take. It is also best to have a safety buffer built up in an IRA or 401(k) plan. In the sample case I ran, the couple only had $30,000 saved. I found that if they had instead saved $250,000, they could withstand up to a 45% cut in their pension.
Are you receiving a pension? How is it working for you? Please let us know in the comments below.
Check out additional articles here:
Like Saving Advice? Subscribe!
Subscribe to get the latest Saving Advice content via email.