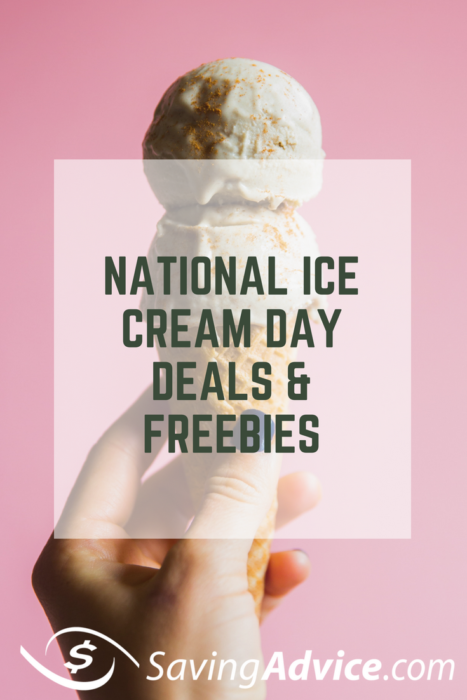 July is National Ice Cream Month. Even though there have been great deals all month long, many places are waiting for National Ice Cream Day, which is July 15.
This year, the foodie holiday falls on a Sunday, making it possible for just about anyone to capitalize on these delicious freebies and deals. So, without further ado, here are the best Ice Cream Day finds.
National Ice Cream Day
DoorDash is delivering your first Baskin-Robbins order for free throughout the month of July. If you download the Baskin-Robbins app on National Ice Cream Day you'll gain access to special offers. Promotions include BOGO 99-cent sundaes, $2 off a milkshake, and BOGO cones. On July 31, the ice cream shop will be offering free kid-sized scoops for $1.50.
Join Bruster's Sweet Rewards program and get $3 off your ice cream.
On National Ice Cream Day, buy one soft serve cone or cup and get a second free.
Buy one Cold Stone Creation dessert, get a second one free by joining Cold Stone's rewards program. You'll also get $5 off your purchase with every 50 points you accumulate and Cold Stone will give you a BOGO dessert on your birthday as well.
Dippin' Dots is offering customers a free mini cup of the peculiar treat on July 15. This deal is only available at participating locations and giveaway times may vary.
Through the entire month of July, Dairy Queen is offering customers a free Blizzard when they download the DQ app. Simply provide proof that you've downloaded the app to your phone, and get your free Blizzard. The app also offers other exclusive deals that'll help you save money, like six BOGO free Blizzard coupons each year.
Get a free ice cream for signing up for the Slab Happy rewards program.
Monkey Joe's is holding a customer appreciation event on National Ice Cream Day. Because the two fall on July 15, they are giving away free ice cream. Call your local Monkey Joe's for information about the event.
As always, Sonic is offering some seriously great deals on their treats. Get half-priced milkshakes, floats and ice cream after 8 p.m. every day.
Like Sonic, Steak N' Shake has some awesome Happy Hour deals you may want to consider. On weekdays from 2 p.m. until 5 p.m. you can get shakes and drinks half off.
Even Wag! is celebrating National Ice Cream Day. However, it isn't nationwide. Folks in New York City will be able to visit a Wag! ice cream cart in Central Park Dog Park on July 15. All dogs get a free ice cream.
Ben & Jerry's and Talenti will be on sale from July 13 until July 15. Customers can get two pints for $6. Also, Whole Foods is offering Prime Members an additional 10% off.
Sign up for Yogurtland Real Rewards program and get a free 3-ounce yogurt.
These are just a few of the many deals and freebies available on National Ice Cream Day. Don't forget to check with local ice cream shops and places that sell frozen treats. It's likely many places will be holding some kind of special.
Read More
Like Saving Advice? Subscribe!
Subscribe to get the latest Saving Advice content via email.