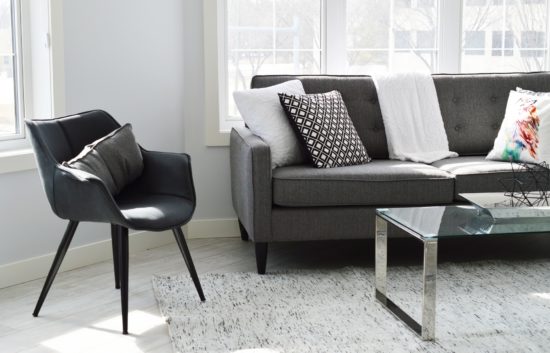 Home furniture is known to be expensive, particularly from traditional furniture stores. On average, a new sofa costs over $1,000, but that number factors in options like those available at stores like Ikea and Walmart. If you're looking for a luxury sofa, you'll likely spend significantly more.
Even reupholstering can cost a pretty penny, averaging between around $340 and $963, leaving many to wonder if buying new is a better option.
What Are Sofas In A Box?
Now, a group of companies is working to make high-quality living room seating more affordable by focusing on an online selling model, not unlike mattress companies like Casper and Leesa. The couches, known as "sofas in a box," come in easy to assemble pieces, but offer sophistication beyond what is typically found from other self-assembly companies.
Burrow Sofas
Burrow offers sofas in a box featuring modular designs and midcentury modern styling. The couch arrives in multiple, easy-to-handle boxes and assembly is incredibly straightforward. You don't need any power tools to put the furniture together, so there is no additional expense.
All Burrow sofas are made in North America and feature high-quality, sustainable components, including hardwood. The materials are non-toxic and not treated with chemicals while still being stain-resistant.
As an added bonus, each Burrow sofa has an integrated USB charging point, making keeping your devices powered up a breeze. All of the cushions are reversible, allowing you to choose between a tufted or smooth finish.
A three-seat Burrow sofa retails for just over $1,000, making it an affordable luxury. Loveseats are available for under $800, and a four-seater option is less than $1,400. Plus, shipping is typically free, helping you save even more when you don't want to sacrifice quality.
Campaign Sofas
Featuring a sturdy steel frame with a lifetime warranty, Campaign sells sofas and love seats that arrive in two boxes. The cushions are compressed for shipment but quickly spring to life once the packaging is open. All of the legs are coated hardwood, like oak or maple, adding to the sense of luxury.
Assembly is quick, usually taking about 15 minutes, and incredibly intuitive. While instructions come with the sofa, many buyers won't need them.
There is a wide variety of colors to choose from, ensuring anyone can find an option that works with their existing décor. Plus, the sofa and love seat feature very clean lines without being overly modern, making them suitable for a range of interiors.
A three-seat sofa costs under $1,200 and comes with free shipping. The loveseat is less than $900.
Rivet Sofas
Most Rivet sofas arrive practically fully-assembled. All you need to do is screw on the legs, making these some of the easiest sofas in a box to construct.
Plus, along with luxurious fabric options, like velvet-like finishes, you can also buy leather, making high-end luxury accessible to the masses.
The leather 74-inch bench sofa is under $1,100. It features a tufted seat and smooth back cushions. The tapered legs are wood, adding to the level of sophistication. Two bolster pillows also come with the sofa.
Coordinating leather living room chairs featuring generous dimensions and hardwood frames are also available for under $850. As with the other sofas in a box on this list, shipping is free.
For those looking for something less expensive, Rivet also has sectionals with reversible chaise loungers. The chaise portion can be on the left or righthand side, giving you options for styling your room. All of the pieces arrive in a single box and assembly is quick and easy. For less than $800 for fabric models, these sectionals are fairly affordable too.
Are They Better Than Ikea Sofas?
When it comes to self-assembly furniture, Ikea is likely the best-known company on the planet. While their products are affordable, they often don't feature the sturdiest construction.
For example, most Ikea sofas won't have hardwood or all-steel frames, affecting their durability. Even the leather Stockholm sofa, which costs nearly $2,000, has a particleboard, fiberboard, and plywood frame.
Additionally, assembling Ikea furniture can be quite complex. Most come with multiple pages of instructions and bags full of hardware.
Ikea also falls short when it comes to shipping. Depending on your location, shipping can easily run more than $50. That means, after shipping, you could end up spending nearly twice as much on a leather sofa that doesn't feature a hardwood frame.
Ultimately, the sofa in a box options have a lot of potential, so consider exploring the options above if you are looking for a luxury couch at a more affordable price.
Have you ever purchased a sofa in a box? Tell us about your experience in the comments below.
Looking for more great articles? Give these a try:
If you enjoy reading our blog posts and would like to try your hand at blogging, we have good news for you; you can do exactly that on Saving Advice. Just click here to get started.