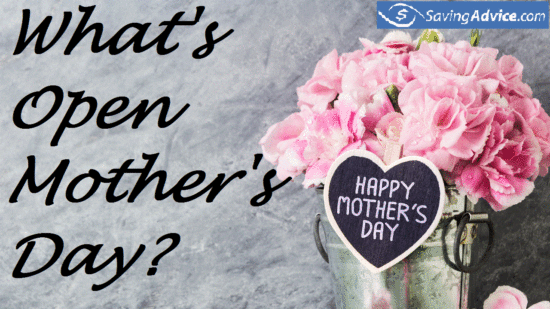 When a holiday falls on a Sunday, it's easy to get confused about which businesses are open that day. So, which stores and restaurants are open on Mother's Day? Just about all of them are, as it's a busy day for retailers and restaurants alike.
Restaurants
Most restaurants do a lot of business on Mother's Day– they're open but they may be packed too.
The ones likeliest to be crowded have promotions like free meals for moms. Click here to see which eateries are offering deals that day.
So it's a good idea to make reservations to anyplace that accepts them.
Retailers
Barring any extenuating circumstances, all retailers are open on Mother's Day, so you still have time for last-minute gift purchases.
Places open for business include florists, candy and chocolate stores, discount stores, department stores, specialty stores, drug stores and supermarkets — ranging in size from locally-owned small businesses to large chains like:
Albertsons
Costco
CVS
Kroger
Publix
Rite Aid
Safeway
Target
Trader Joe's
Walmart
Walgreens
Whole Foods
That said, it still doesn't hurt to call ahead to see whether stores near you are going to be open on Mother's Day. You might be able to find out by phone how crowded it is in the store so you can plan accordingly.
One driver of crowds includes the special discounts many retailers are offering on Mother's Day — click here to see which ones have the best deals.
Gas Stations
All gas stations that normally operate on Sundays should be open on Mother's Day.
Financial Institutions
Since Mother's Day always falls on a Sunday, that means most banks, credit unions and brokerages are closed on the holiday.
One important exception are branches located within supermarkets that have Sunday hours of operations — please click here for a list of them.
Otherwise, you can still use ATMs and online banking even when your preferred financial institution is closed — although the actual transactions won't go through until the next business day.
Post Offices
Since Mother's Day always falls on a Sunday, that means no post offices are open that day.
However, some postal locations keep their lobbies open seven days a week so you can buy stamps from machines and drop letters into the chutes.
It doesn't hurt to call ahead to confirm whether a self-serve lobby near will be open on Mother's Day.
Yes, All Stores and Restaurants Are Open on Mother's Day
Yes, every retailer and eatery you can think of should be open on Sunday for Mother's Day.
Most of what you may want to do that day should be possible — except, perhaps, for avoiding traffic.
Readers, what sort of plans are you making for Mother's Day this year?
If you enjoy reading our blog posts and would like to try your hand at blogging, you can do exactly that on Saving Advice. Click here to get started.
Read More About Mother's Day
Like Saving Advice? Subscribe!
Subscribe to get the latest Saving Advice content via email.