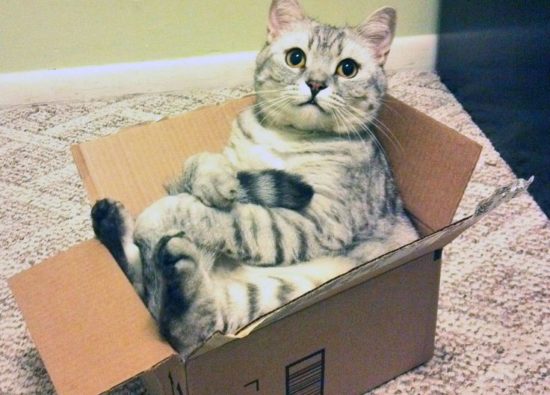 Cats may be connoisseurs about food but they really don't know the difference between toys you spend money on and regular household items you already have.
They love to play with things you would otherwise discard, so why not let them have their way — with a few adjustments for safety?
You could even make free cat toys just as esthetically appealing as the kind you buy in a store, and then use the savings to buy healthier pet food. Read on for ideas.
Aluminum Foil
Even if you don't have a roll of aluminum foil in your kitchen, you probably end up with some if you ever order burritos for takeout. Roll some into a ball and the result will keep your cat entertained for hours at a time.
Balls
Some balls make better cat toys than others, and if your cat still has full-length claws intact, you might not want to entrust your favorite sporting ball to your pet.
That said, anything around the weight of a ping-pong ball or whiffle ball is ideal for feline entertainment — they move quickly across the floor and also make noise when rolling or bouncing on hard surfaces.
Balls made out of plastic are also less likely to be punctured or bitten into a state in which they lose their utility.
Bottle Caps and Jar Lids
Some felines are so obsessed with bottle caps and jar lids of any size that you'd swear they were professional hockey players in another life — or at least it will seem like that when they are on tile or wooden flooring.
Speaking of which, if you have wooden flooring, you may want to be careful about metal caps with corrugated edges — the kind that go on top plastic bottles of beer or soda — the corrugation may scuff or scratch off the varnish over time.
Cardboard Boxes
Surely you've noticed that every time you empty a cardboard box, your cat can't wait to dive into it. Perhaps you (subconsciously?) don't let your cat spend much time in it because leaving it out makes it look like you're neglecting your cleaning.
Instead, make the box look more like a deliberate furnishing for your pet. At the very least, you might remove the shipping labels and any branding so the box doesn't look like refuse.
Better than that, however, you could cover up the sides of the box with any kind of paper. Try decorating it with paint or marker, as long as you use a non-toxic variety.
Feathers on String
This combination results in a toy that gets you to interact with your cat — and it seems to never get old in their eyes.
If you have any feather boas in your closet, you might have noticed that they tend to shed extra feathers. Collect these and any that might come out of pillows, down coats or jackets and tie a string to them.
Make that string several feet long for the best effect. Then you can tie the other end to a stick or branch you might find outside. The resulting toy saves you a good $10 to $20 over the store-bought version of a classic favorite among the feline set.
A more modest variation on the feather toy might replace the string and stick with the cardboard cyllinder that remains after you use up a roll of paper towels. Glue or tape the feathers to the end of the cyllinder.
Flashlight or Laser Pointer
Hopefully you already own at least one flashlight for emergencies — and have a supply of backup batteries. If you break the flashlight out in the evening, you'll some luck engaging your cat in playing with the light wherever you aim it; do it in broad daylight and it might not even register.
If you happen to have a color other than standard white, you might find your cat becomes even more interested. (Colored flashlights aren't just for ravers, either; if your cat has ever had an accident outside of the litter box, your vet might have suggested you buy a black-light flashlights to illuminate where to clean up cat urine, which glows under the light.)
Even better: If you already have a red laser pointer for use in presentations, that device tends to be the biggest hit with felines. They love to chase after the light and appear to be less likely to catch on to the fact that it's originating from your hand as they eventually do when you use a flashlight for this same purpose.
Hair Ties
Hair ties have a tendency to become cat toys if you're not careful about where you store them when you're not wearing them.
The thicker ones like scrunchies work better and are safer for your pet as well. The thinner hair bands may end up being eaten and vomited up. The same goes for plain rubber bands.
Paper Bags 
You've probably already noticed that your pet loves to crawl into any bag you leave on the floor. Why not make it official — every time you come home with a bag, let your pet have at it.
A word of caution about bags: if they have handles or ties on them, tear them off so your pet doesn't accidentally put themselves into a noose. This is much likelier to become an issue with plastic bags that have handles.
Plastic Rings
Perhaps for the same reason that bottle caps provide endless entertainment for cats, so too do the plastic rings that split apart from the bottom half of the lids on plastic bottles of milk and juices.
Not all plastic bottles are flexible enough to enable you to free the ring from the neck of the bottle; but soap might provide enough lubrication to do the trick.
Ribbon and Yarn
Look for amounts of ribbon, yarn or even string that might be considered remainders — not enough to use for wrapping gifts or knitting.
Tie them together to make a toy that's too big for your pet to ingest in its entirety. Individual strands are much likelier to be swallowed, especially in the case of yarn or string.
Twist Ties
Used to keep plastic bags of bread closed, and also provided inside boxes of garbage bags for the same reason, you probably discard these wire bendable items — and even the plastic tab versions — after you're done with them.
Otherwise, if you've ever tried to save and reuse them, your cat has probably gotten a hold of them at least once and had a good time.  You might as well just give all of the to your pet from now on, but make it safer: twine a bunch of them together into something too big for your cat to ingest.
Free Toys Your Cat Will Love
Remember to keep an eye on your cats when you first test out new toys. Anything they chew on might become something they swallow.
Most likely they will vomit back up anything that isn't good for their digestive systems, but if they take ill, then that free toy suddenly becomes expensive if you have to go to the vet.
Speaking of your pet's health, it will benefit if you vow to only make their toys so that you can use the money you save to buy healthier cat food.
Readers, have you made any cat toys for your pets using things we haven't mentioned here? Please tell us about it in the comments section and we'll update the post accordingly.