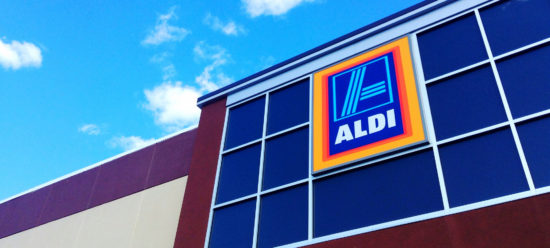 During the pandemic contactless payment methods have become even more popular, with usage jumping
almost 400%
. Options like Google and Apple Pay offer a way to safely buy your groceries without handling cash, which can harbor germs. If you've been wanting to switch to digital payments instead of carrying around a wallet, you may be wondering, does Aldi accept
Apple Pay
?
In the past, Aldi has been one of the last grocers to jump on board with the latest forms of payment. Aldi didn't accept credit cards or contactless payments for quite some time, but luckily now they do. Here's everything you need to know about using Apple Pay and similar services at your favorite discount grocer so you can go in prepared.
Aldi Apple Pay
If you're wondering does Aldi accept Apple Pay, the answer is yes. Aldi announced it would be accepting Apple Pay in all of its US stores starting in September 2017. The announcement stated that shoppers would be able to pay for their items by tapping their phones to the payment terminal. This includes Samsung Pay, Google Wallet, Android Pay, and other contactless payment methods on your cellphone.
This has been part of Aldi's push to grow its customer base. In 2017, the company also began offering more organic items and more fresh meats. Adding Apple Pay and other contactless payments to the available ways to pay made Aldi comparable to other grocers in yet another way.
After announcing that the stores would accept Apple Pay, Aldi CEO Jason Hart had this to say: "We're continually innovating to provide our customers a faster, more efficient shopping experience that saves them time and money. Shoppers love ALDI because we build and run stores they can shop quickly. Contactless payment makes shopping at ALDI that much faster and more convenient."
Get a $10 Costco Shop Card
How to Use Apple Pay at Aldi
Not familiar with how to use Apple Pay? Don't worry! It's safe, fast, and easy to use. If you want to use Apple Pay the next time you head to Aldi, check out this short how-to video:
Other Forms of Payment at Aldi
Because Apple and Android Pay are among the quickest ways to pay at the register, the budget-friendly grocer made this change to stay in line with its desire to remain a speedy, one-stop shop for all your grocery needs. But Aldi also accepts other common payment methods, so you'll still be able to shop there even if Apple Pay isn't your go-to.
According to the company's website, in addition to Apple and Google Pay, Aldi accepts cash, Visa, MasterCard, Discover, American Express, most debit cards, Electronic Benefits Transfer (EBT), and SNAP. You can also use Aldi gift cards at any Aldi location.
Unfortunately Women, Infants, and Children (WIC) benefits are not currently accepted at Aldi. This is because only name brand formulas are included in the program, which Aldi doesn't sell. Instead, they stock an in-house brand of formula called Little Journey, which is offered at an affordable price point.
Coupons at Aldi
Another thing to keep in mind about paying at Aldi is that the store does not accept any manufacturer's coupons. This is because, for the most part, you are buying Aldi brand items that aren't available elsewhere. However, even when they are selling a name brand product, you will not be able to use a coupon.
Every once in a while, Aldi will release a special when a new store opens. During this time, you may find an Aldi coupon that can be used for the grand opening. To find Aldi coupons, you'll need to keep an eye out for them in your local newspaper.
Despite not being able to use coupons, Aldi has been able to help people save up to 40% on their grocery bill. You can also scan your receipt using rebate apps like Fetch Rewards to earn cash back.
If you'd like to learn more about shopping at Aldi, check out these helpful articles:
You'll Still Need Change to Shop at Aldi
Although Aldi accepts Apple Pay and other contactless payment methods, you'll still need to keep change on you to shop there.
In order to unlock a cart, you'll need to insert a quarter into the handle. When you're done shopping, you'll get your quarter back as long as you bring it to the cart return area, so you won't lose money. But it is a little inconvenient to have to remember to bring a quarter with you every time you shop, especially if you're used to the ease of digital payments.
Another quirk about shopping at Aldi is that they don't offer free bags. You either need to bring your own bags or pay for a few at checkout. You'll also need to bag your own groceries because Aldi doesn't employ baggers to cut costs. Then they pass the savings onto customers in the form of lower prices.
Even though it takes some extra planning to remember your quarter and reusable shopping bags, it's worth it to get your weekly groceries at a steep discount.
Other Supermarkets That Accept Apple Pay
Many other grocery stores have also hopped on board and started accepting contactless payments. You can use Apple Pay to quickly and conveniently buy groceries at over a dozen grocers including Trader Joe's, Food Lion, Giant Food, Whole Foods, Save Mart, Wegmans, Winn-Dixie, Shop n' Save, BI-LO, and United Supermarkets.
Stores That Don't Accept Apple Pay
Sadly not all supermarkets are as with the times as Aldi and the other grocers listed above. Many stores still don't accept Apple Pay, including Walmart, Kroger, and Sam's Club. But luckily Walmart and Kroger do allow you to pay through your mobile device by downloading their digital wallet app. However, if you prefer to stick to Apple Pay and don't want yet another app cluttering up your phone, you may need to buy your groceries somewhere else, like Aldi.
Have you shopped at Aldi? Now that they've started to accept faster forms of payment, will you consider trying it?
Give the gift of savings! Learn more
Photo: Mike Mozart
If you enjoy reading our blog posts and would like to try your hand at blogging, we have good news for you; you can do exactly that on Saving Advice. Just click here to get started.
Check out these helpful tools to help you save more. For investing advice, visit The Motley Fool.
James Hendrickson is an internet entrepreneur, blogging junky, hunter and personal finance geek. When he's not lurking in coffee shops in Portland, Oregon, you'll find him in the Pacific Northwest's great outdoors. James has a masters degree in Sociology from the University of Maryland at College Park and a Bachelors degree on Sociology from Earlham College. He loves individual stocks, bonds and precious metals.