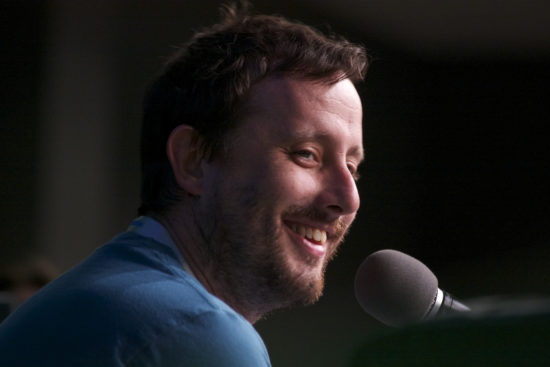 There are some wealthy celebrities whose faces never truly see the spotlight. In most cases, this is because they chose to be a voice actor. Geoff Ramsey is one of the most successful voice actors in the United States. Best known as the voice of Dexter Grif in "Red vs. Blue," Ramsey has made a name for himself, but how has that benefited Geoff Ramsey's
net worth
?
---
Geoff Ramsey's Profile:
Net worth in 2017: $3 million
Profession: Voice actor, comedian
Age: 42
Source Of Wealth: Voice acting
Residence: Austin, Texas
Citizenship: U.S. Citizen
Marital Status: Married; Griffon Ramsey
Education: No college education, enrolled in the United States Army after high school
---
About Geoff Ramsey
Ramsey was born in Mobile, Alabama in June 1975. Throughout his childhood, he moved around to different homes in Florida and New Orleans before settling in Austin, Texas, where he resides now. During his years in high school, Ramsey was a semi-pro bowler. He enlisted in the United States Army before graduating and started basic training soon after classes were over. He served in the army from 1993 until 1998 when he became a photojournalist based in Kuwait.
The year 2003 was a big one for Ramsey. It was the year he co-founded Rooster Teeth, a production company. This laid the way for many other business ventures for Ramsey. He got his start as a voice actor in 2003 as well, when he began to voice Dexter Grif on the web series "Red vs. Blue," which was produced by Rooster Teeth. The series was a science fiction comedy and slowly made Ramsey an internet star. Since first co-founding Rooster Teeth and appearing in the series, he has been invited to video conferences around the world.
He's gone on to produce and voice characters in many popular series since. Most people would recognize Ramsey's voice from the video games series "Halo." He voiced a marine in "Halo 3" and Grif in "Halo 4." Ramsey has also appeared himself in many videos as well as provided the voice for various other characters.
In 2008, he started Achievement Hunter, a web series about achievements found in video games. After some time, the channel switched its focus to providing comedic commentary to video games.
Geoff Ramsey's Net Worth
All of that said, Geoff Ramsey's net worth is estimated to be around $3 million. While that may not seem like much, Ramsey has ensured a consistent cash flow source by getting involved with Achievement Hunter. He has also been able to network extremely well within the circles of other vloggers and voice actors, so he will continue to get work. But where did his $3 million fortune come from?
By in large, Ramsey's $3 million net worth came from his work with Rooster Teeth and other production companies. Much of his career has stemmed from his work producing. Of course, a fair amount of cash flow came from voicing other popular characters, like Grif in "Halo 4." Ramsey has also appeared in a number of other web series as himself, including a reality series called "Happy Hour," featuring his wife, Griffon.
Although his career has slowed down in recent years (compared to the early 2000s), Ramsey has been able to continue cash flow for himself. Because he has no big, new projects going on, it is safe to say Geoff Ramsey's net worth won't expand very quickly in the years to come but it will likely maintain as he continues work at Rooster Teeth and other production projects.
Photo: 
Count3D
Like Saving Advice? Subscribe!
Subscribe to get the latest Saving Advice content via email.