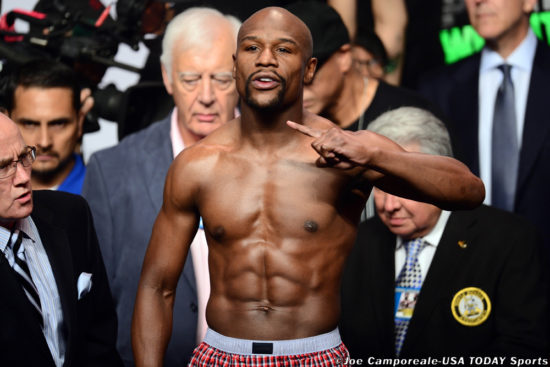 One of the most anticipated athletic events in history is happening this weekend. Boxing legend Floyd Mayweather is going head-to-head with Ultimate Fighting Championship star Conor McGregor. The pair will face off Saturday night in a 12-round boxing match.
Many people throughout the world are eager to see the fight. In fact, many people are paying $99 to watch it at home (or paying cover charges to watch it elsewhere). It is arguable that neither Mayweather nor McGregor need anymore cash (McGregor is worth millions), but what is Floyd Mayweather's net worth?

---
Floyd Mayweather's Profile:
Net worth in 2017: $400 million
Profession: Boxer
Age: 40
Source Of Wealth: Boxing career
Residence: Las Vegas, NV
Citizenship: U.S. Citizen
Marital Status: Divorced
Education: No formal education beyond high school
---
About Floyd Mayweather
Floyd Mayweather is one of the greatest boxers to have ever lived. Born in Grand Rapids, Michigan in February 1977, Mayweather didn't have much choice in whether he'd be interested in boxing or not. He was born into a family of fighters. His father, Floyd Mayweather, Sr., was a welterweight champion who went head-t0-head with Sugar Ray Leonard and his uncles, Jeff and Roger Mayweather, were also boxers.
Boxing was always a huge part of Mayweather's life, so much so that he never considered another profession. He simply always wanted to be a boxer. Mayweather even mentioned to his grandmother at one point that he was thinking about getting a job. To which she replied, "No. Just keep boxing." Although his grandmother saw the most potential in him, his family probably never even dreamed of what a success he would be.
Mayweather went on to box for the U.S. Olympic team in 1996. He won a bronze medal. After competing in the Olympics, he came home and began his professional boxing career, where he began one of the best boxers in history. To this day, Floyd Mayweather is an undefeated five-division boxing champion who has won 15 world titles in four different weight classes.
Now the 40-year-old boxer is gearing up for what may be his final boxing match with Conor McGregor. There are many people eager to watch the fight and see if Mayweather will continue to hold his undefeated status. Either way, both parties are going to make a ton of money through the fight. So, how much will he make and how will it impact Floyd Mayweather's net worth?
---
If you're interested in Floyd Mayweather's Net Worth you may also enjoy: 
---
Floyd Mayweather's Net Worth
Celebrity Net Worth estimated Floyd Mayweather's net worth to be $400 million with an average $200 million payout each fight. While he has earned some cash from endorsements, they only account for about $25 million of his total career earnings (which sits at about $730 million). The bulk of Mayweather's cash has come from fighting.
To give you an idea of how much cash Mayweather has made fighting, here are just a few of his matches and what he was paid:
Arturo Gatti (2005): $3.2 million
Oscar De La Hoya (2007): $25 million
Sugar Shane Mosley (2010): $30 million
Victor Ortiz (2011): $40 million
Manny Pacquiao (2015): $230 million
Now Mayweather is preparing to box Conor McGregor, a fight in which both athletes will be paid tremendously. However, if Mayweather is able to win (remaining undefeated), he will make up to $400 million. 
It has been argued that if Mayweather wins the bulk of his earnings will be soaked up in IRS taxes and fees. Forbes reported that Mayweather has already begun to pay off his debts to the IRS though. While he likely still owes quite a bit more, Floyd Mayweather's net worth will definitely see an increase after this match Saturday.
Will you be tuning into this event? What do you think about each fighter's net worth (See Conor McGregor's Net Worth.)
Photo: MMA Junkie
Like Saving Advice? Subscribe!
Subscribe to get the latest Saving Advice content via email.