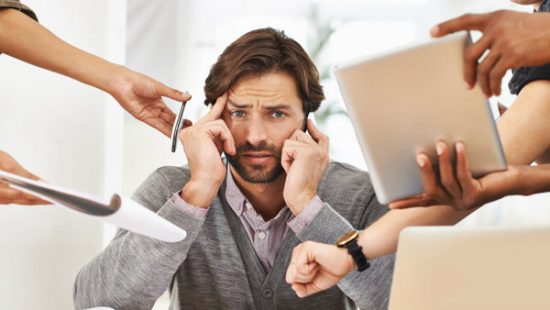 All around the developed world,
people are more debt-strapped than ever
. And while it's easy for business owners to ignore this problem (after all, your employees' business is their business, not yours), it's important to realize that employees swamped with debt hurts your business in measurable ways.
Debt causes employees to be unstable and unproductive in various ways. Here are just a few.
Debt causes stress, which prevents employees from doing their best work.

Stress causes more sick days

, more friction in the workplace, more mistakes, and a general loss of productivity.

Debt-stricken employees are more likely to look for a better paying job, or to lose the job they have because of terrible financial strain outside the workplace. You may not know that an employee has financial stress until they suddenly leave the company, forcing you to pay the price in high

recruiting and onboarding costs

.

Debt-ridden employees hurt company culture. If your employees are experiencing the emotional malaise that comes from looming debt, or if they talk about their problems to others, or if their poor financial practices become standard behavior within your company, you've got a cultural crisis on your hands, one you almost surely won't see coming.
For all of these reasons, it is important to find ways to help your employees pay down their debt. Here are some ways to do just that, without impinging on employee privacy or overstepping your bounds.
Offer Help to All.

Rather than targeting specific employees who you may know or think to be in debt, cast a wide net. Offer a workshop that explains "

What is an IVA

?" or hire a financial advisor to come in on Fridays for several weeks, to sit down with anybody who wants help. Not everyone who has debt will necessarily step forward, but some will do so. By setting a new standard for financial literacy in your workplace, you'll be motivating people to make better debt decisions as they move into the future, regardless of problems they've experienced in the past.

Incentivize Saving.

If your business offers the 401(k) or other saving and investment tools, it is important to make sure your employees know what and where they are found, as well as to support them by matching funds. This may seem like a big investment, but many businesses give their employees a financial leg up by matching 3% or 5% of their own contributions to these accounts. This gives employees more money to work with (some of which they may use to pay down their debt) and starts to teach good habits like saving and spending regulation.
You may not be able to make judgment calls about the finances of individual employees, but you can offer general advice and aid to employees as a whole. Talk about debt with your employees, and let them know that all who need can confidentially request help through channels that you provide. This will increase loyalty and productivity in your company. Good luck helping your employees to change their financial lives.
Photo: BenefitsPro