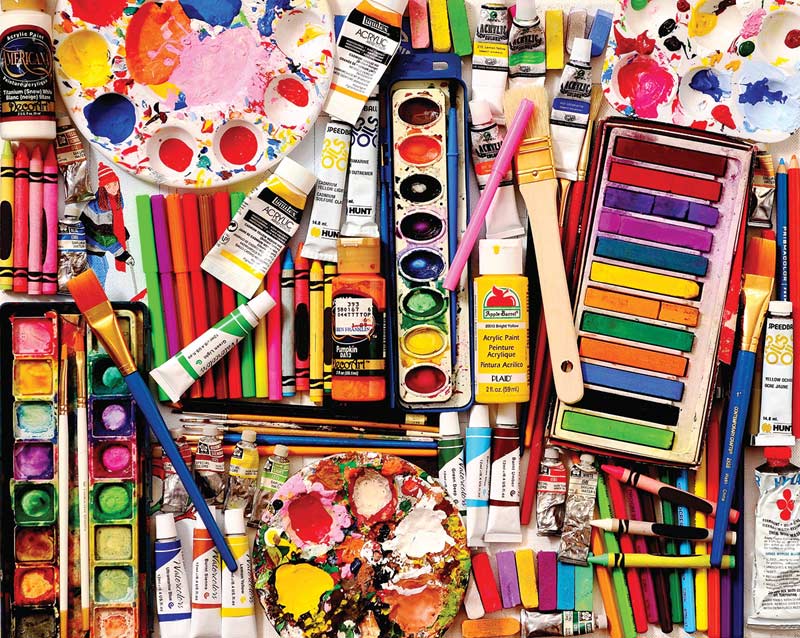 As fun as art is, it really breaks the bank. Whether you deal in watercolors or oil pastels, the supplies you need – and especially the high-quality ones you want – are expensive enough to put a significant dent in your bank account. If you are looking to increase your art supply collection or you're just getting started, here are a few ways you can
save money
on art supplies.
1. Know your priorities.
Focus on spending the big bucks on art supplies that are the most important to you. Maybe you prefer high-quality paper over expensive paints, or vice versa. Regardless, focusing on one or two things that are the most important to you, and that you will use all the time, like paper cutters – rather than just buying into the next trend or extra items you can technically survive without – will keep both you and your bank account happy.
Get a $10 Costco Shop Card
2. Buy singles instead of packs.
Paints, markers, pens, brushes, pencils, and much more will always be less expensive when you buy them individually. As an added bonus, buying individual art supplies gives you the ability to select only the colors you want, meaning you can prioritize which colors are most important and avoid repeating colors you already have.
3. Try out sample packs.
If you are new to your art hobby, trying sample packs is a great way to test out a variety of art supplies without dedicating money to whole sets. This rule applies to not just paints – like this set of 24 Watercolor Sample Dots from DaVinci – but also papers, fountain pen and calligraphy inks, and many other kinds of art supplies. Some are based around a single brand, while others will choose a color scheme or supply type. This is also a good option for artists who want to try a new brand but do not want to invest significant amounts of money in new art supplies.
4. Go for the art supply warehouses.
Skip shopping at Amazon or proprietary stores as much as possible. Your best bet for inexpensive supplies will always be supply warehouses that carry a variety of art supplies from a variety of brands. This is similar to shopping at Costco rather than Wal-Mart. For example, the table below compares the price of an 8mL tube of Winsor & Newton's Cotman Watercolor in Black (Lamp Black or Ivory Black) across eight different online stores, including both standard shops and art supply shops.
5. Shop sales and clearance.
Sales will always save you money – especially if they are sales at art supply warehouses like the ones shown above – and clearance guarantees products for less. While it is always exciting to get that new product as soon as it comes out, it is often worth it to wait for that item to go to clearance. As an added bonus, shopping clearance puts lesser known brands in front of you that may be just as quality as the ones you know and use.
6. Rock those DIYs.
You would be surprised at the sheer amount of art supplies you can create yourself to avoid spending money. Some examples include making your own palette, – putting plastic wrap on a dinner plate, using a sandwich bag, or even following this DIY – learning to mix your own colors, or even using Crayola markers for watercolor. Making art supplies yourself from items you already have will cut down spending on frivolous items, ultimately saving you more money.
7. Review, review, review.
Never be afraid to spend time on the internet. Whether that means comparing prices across multiple sites or digging through products reviews, you will be better off knowing what you're getting into before you actually buy it. This also helps you know you are getting the best bang for your buck, giving you a feel of the product quality and its correlation with the price.
Art supplies are expensive, but that does not mean you have to break the bank to buy them. With a little digging and a little time, your collection will grow without having to sacrifice quality or price.
Give the gift of savings! Learn more
Photo: Puzzle Warehouse