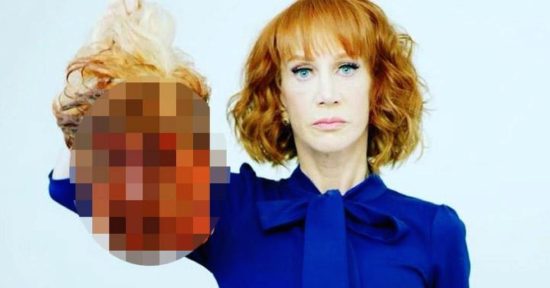 By now you've likely heard about CNN firing Kathy Griffin after she posted photos of herself "beheading" President Donald Trump. The network made the decision to fire Griffin yesterday afternoon. Griffin, who has had a relatively successful career in comedy, may have lost her job at CNN but will her finances really even notice the difference?
It's not yet clear if Griffin's career is over or it will grow due to her posting about Donald Trump. Her wealth could crumble if her career takes a hit. So, what kind of financial foundation has she set? What is Kathy Griffin's net worth and what are her sources of cashflow?

---
Kathy Griffin's Profile:
Net worth in 2017: $20 million
Profession: Comedian
Age: 56
Source Of Wealth: Comedy career
Residence: Los Angeles
Citizenship: U.S. Citizen
Marital Status: Single
Education: No formal education beyond high school
---
Kathy Griffin's Career
You've likely become familiar with Kathy Griffin's most recent mishap but what about the rest of her career? Griffin was born on November 4, 1960 in Oak Park, Illinois. She moved to Los Angeles at the age of 18 where she studied for a short time at Lee Strasberg Theatre and Film Institute.
The 1980s is where Griffin really became popular though. During the 80s she began her standup comedy career. She also appeared on a number of television shows and sitcoms. She even achieved recognition for her supporting role in "Suddenly Susan" (1996-2000).
Where Griffin's career really flourished, however, was on HBO and Bravo. Both networks hired her to do standup specials. She performed 16 standup specials for Bravo (the highest number of aired television specials on any network at the time).
Aside from her successful comedy career she has also become known for her outspokenness. Griffin is a well known LGBTQ advocate and openly repealed "Don't ask don't tell," so this isn't the first time she's been in the spotlight for her opinions and actions. Will the photos that are all over the internet affect Kathy Griffin's net worth?
Kathy Griffin's Net Worth
It isn't likely that this will have a huge impact on Kathy Griffin's net worth. She is currently sitting on a $20 million nest egg. Every dime of it has come from her unpopular opinion so it is likely she'll be able to pick up work in the future.
Her $20 million net worth didn't come out of nowhere though. Griffin worked extremely hard to get where she is today (even if that's unemployed). Her specials on HBO and Bravo have been paying her bills for years, not to mention the cash she's raked in from hosting and co-hosting on shows like "The View" and her very own comedic talkshow "Kathy."
Obviously she's also been hired by CNN but she hasn't been making a ton of cash from the network so it won't likely affect her overall wealth. Griffin was only slated to host the network's New Year's Ever program.
She has come out and publicly apologized for the incident involved Donald Trump. She said that she believes she went to far. Whether you agree with her actions or not, Griffin continues to release standup comedy albums and she'll likely continue making money in the future.
Do you think Kathy Griffin should have been fired? 
Photos: CNBC and Lehigh Valley Live
People who enjoyed this article also liked: 
Like Saving Advice? Subscribe!
Subscribe to get the latest Saving Advice content via email.