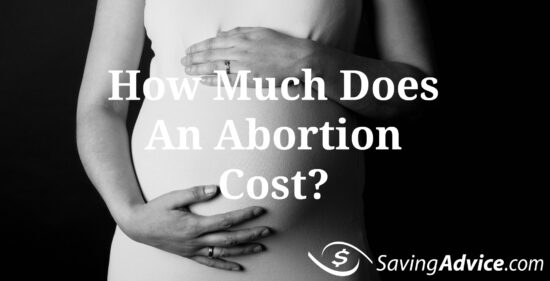 While it is a controversial topic, abortions are a common occurrence in the United States. Three in 10 women have one by the age of 45. Almost half of these women have incomes under the federal poverty level. When it comes to having an
abortion
, cost can play a huge factor. Although states cannot ban abortion they can pass laws that can making having one more expensive.
So, how much does an abortion cost?

Factors That Affect Abortion Cost
Abortions do not have a single cost across the board. They can cost anywhere from $0 to $3,275, depending on a number of factors. Where you live is prime factor. Abortion costs vary from state-to-state and can even be more expensive in highly populated areas than in the country. Cost will also vary depending on how far along the pregnancy is and what kind of health insurance or other funding is available to you.
The Abortion Pill
During the first trimester women have the option to choose a medical abortion (the abortion pill) or a surgical abortion. You can receive a medical abortion up until the ninth week of pregnancy in most states, however, some states prohibit the use of the pill after seven weeks. The process can take a few hours to a few days and usually requires a follow-up appointment.
How Much Does an Abortion Cost?
First-trimester surgical abortions range from $300 to $1,200. The cost of the pill generally lands somewhere in between those two figures. However, the cost of abortion depends on the factors listed above. The two most important factors are location and how far along the pregnancy is.
Let's take a look at prices in Los Angeles:
According to Clear Health Costs, Surgical abortions generally cost about $650 up until 11.5 weeks. From 11.5 weeks until 15.6 weeks the cost is $800; $1,050 at 16 weeks; $1,700 at 19.6 weeks; $2,225 at 20 weeks; $3,275 at 22 to 24 weeks. The abortion pill in Los Angeles is $605.
If you are curious as to how much an abortion may cost in your city and state you can check prices using this tool.
Ways to Pay for an Abortion
Now that you have an idea of what an abortion may cost you should know there are a few ways you can pay for abortion services. The prices listed above are the price you will pay if you pay cash or with a debit card. However, you can also pay with a credit card and your abortion may be covered by your insurance.
Pay With Cash
Obviously, you can pay for an abortion with cash or a debit card. Both doctor's offices and abortion clinics accept this form of payment. As previously stated the price may vary from state-to-state so you will want to call ahead of time and verify how much the abortion will cost you.
Pay With Credit
You can pay for an abortion with a credit card as well, however, not all locations will accept this form of payment. Planned Parenthood clinics and doctor's offices will likely accept credit card payments. Smaller, privately-owned clinics may only accept cash payment.
You may even be able to get cash back on your abortion purchase. Though it may seem a bit taboo, if your credit card offers cash back on all purchases you can get cash back with your abortion purchase. For instance, the Chase Freedom Unlimited card offers 1.5% cash back on everything you buy. Every time you swipe your card, even if it is for an abortion, will get you cash back.
Pay With Insurance
Some health insurance will cover the entire cost of an abortion. Others will cover part of the cost. If you think that your insurance company may cover part of or all of the cost of an abortion, you may want to call and find out. Once you've discovered whether or not your insurance company covers any part of the cost of an abortion you will need to call both Planned Parenthood as well as your physician to see if they accept your insurance for the procedure.
Where insurance is concerned some states restrict mothers' ability to pay for abortions with their state Medicaid insurance unless it is endangering the mother or the mother has been raped. However, the state can also choose other circumstances in which an abortion will be covered as well. Coverage of abortions through private insurance companies may vary from state-to-state as well. For instance, according to KFF.org, Kansas, Kentucky, Missouri, Nebraska, North Dakota, and Oklahoma all restrict abortion insurance coverage to only if the mother's lie is in danger.
Safe abortions can be costly but can be necessary for the health of the mother. In some cases the family may not have to means to support a child, the child could pose a threat to the mother's health or the child may not be able to be carried to full-term. Whatever the reason may be, there are tools available for you to find out how much your abortion may cost and various ways to pay for it.
Abortion is a controversial issue – feel free to leave a comment below with your thoughts.
Photo: Tatiana Vdb