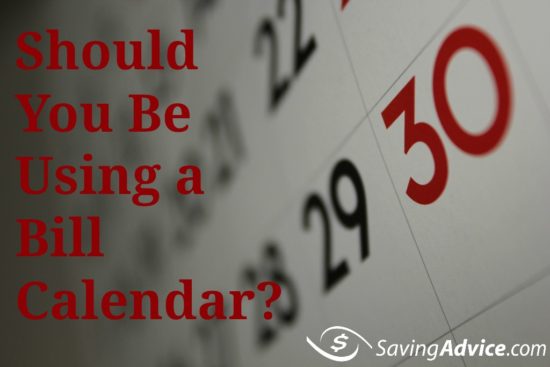 Organization is key to success in many areas of life, especially when it comes to finance. If you don't have an organized budget, know when your bills are due or even how much money you are putting into savings your finances can get messy. One way many people keep their finances in order is by using a bill calendar.
What is a Bill Calendar?
If you've ever been sitting there and realized a bill was due today (or yesterday) you know the panic it can cause. Staying organized and staying on top of when your bills are due can be difficult. A bill calendar is a calendar or checklist that you use to keep track of when your various bills are due and when they've been paid. Keeping a calendar or checklist is important for many people to keep their finances organized.
Visualizing and categorizing your bills can also be a good way to see where you might be able to shift bill payments to credit cards. As long as you pay credit cards in full when they're due, paying bills with credit cards can earn you rewards on what you're spending anyway, especially for
travel credit cards with big signup bonuses
.
How it Works
Like any other calendar, there are days of the month labeled. At the beginning of each month (or the end of each month) you sit down and log when your bills are due throughout the month. For instance, my rent is due on the first each month. I would write "Rent $800" on the first of the month.
Having a calendar is also helpful if you have to change your payment date. For example, if you hit some type of financial hardship and need to move your car insurance payment from the 5th to the 15th, you can note that change on your bill calendar to keep track of when your insurance is due.
Physical Bill Calendar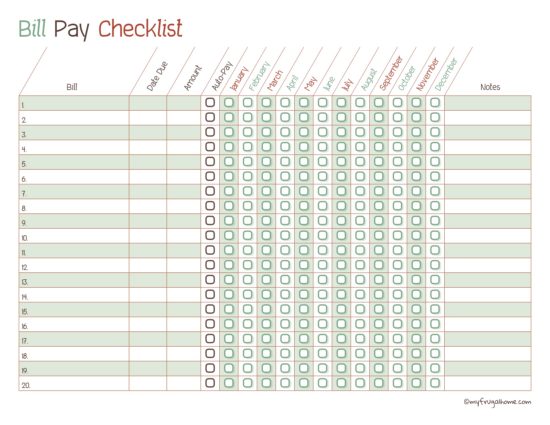 If you are looking for a more traditional approach to the bill calendar you can use a physical calendar. You can pick up a calendar at most stores in the office section. The only thing I like about the physical bill calendar vs. the Google bill calendar is that you can color-code your bills. For instance, before I started using my Google calendar to organize my bills, I was using a paper calendar on my desk. Utility bills were blue, debt payoff was red, rent was green, car expenses (insurance, repairs, payments) were orange and "everything else" was purple (gym, Netflix, etc.).
Virtual Bill Calendar
I use Google Calendar to keep track of my bills. Google Calendar is linked to all of my devices and I am able to update my bills and other events no matter where I am. In the age of technology that we live in I think that this is the best way to stay on top of your bills and other financial obligations. I have Google send me an alert the day before the bill is due so that I can pay it a day early to be sure all of my bills are paid on time.
If you don't like to use Google calendar you can also use other finances apps to keep track of when you bills are due. Mint, for instance, will send you an alert when your bills are due as well as keep you on track with your budget.
Most banks also offer similar services through their online banking website. PNC, for instance, offers a virtual wallet. You can check what bills you have scheduled out and it balances your wallet for you. If you have $260 coming out for a car payment in a few days and only have $300 in your account PNC will only make $40 available to you.
Benefits of Using a Bill Calendar
The idea of having a bill calendar may seem a bit old-fashioned. Most of the time you are able to set up an automatic draft and pay your bills without thinking about it. However, using a bill calendar can help make you fully aware of your financial situation. It will help you budget and also help you stay on top of your bills.
Paying your bills on time each month can greatly affect your credit score. Think about trying a bill calendar or another type of finance app to get a hold on your finances again.
Have you used a bill calendar? How do you keep track of your finances?
Photos: Dafne Cholet and My Frugal Home
Like Saving Advice? Subscribe!
Subscribe to get the latest Saving Advice content via email.