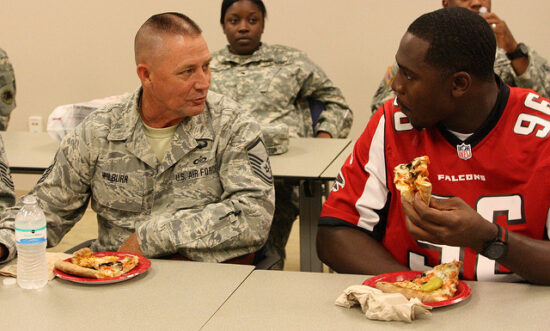 Veterans Day is tomorrow
(November 11). If you have a veteran in your life you may be looking to celebrate the day with them by going out to eat. You don't have to spend an arm and a leg on lunch or dinner with your favorite vet though. Around 91 restaurants throughout the United States are offering free meals for
Veterans Day
. Here are some of the best freebies that will be available tomorrow:
Applebees
Every year since 2007 Applebees has offered a free meal to veterans. This year is no different. Applebees will be offering free meals on Veterans Day to any veteran or active duty military personnel. Check the Applebees website to find out what kind of identification will be accepted to take advantage of this deal.
IHOP
On Veterans Day IHOP will be honoring our men and women in uniform by giving away a free stack of red, white and blue pancakes to all veterans and active duty military. You must show proof of service before receiving this offer (show up in uniform, have a photo in uniform or military ID).
Chili's
You can visit Chili's on Friday, November 11 and take advantage of the free meals for Veterans Day. Like the other Veterans Day freebies you will need to show proof of service or prove that you are still serving in the U.S. military.
Krispy Kreme
On Friday Krispy Kreme is offering a free donut and coffee to every veteran or active duty military personnel. You will have to dine in to take advantage of the offer though. It will not be available via drive thru.
Olive Garden
Another place to get a free meal on Veterans Day is Olive Garden. Get your free meal by presenting one of the following: a military ID, U.S. Uniform Services Retired ID Card, Current Leave and Earnings Statement or Veterans Organization Card.
Denny's
On November 11 all active and non-active military personnel can receive a free Build Your Own Grand Slam Breakfast. This offer is only available at participating Denny's from 5 a.m. to noon.
Outback Steakhouse
Outback Steakhouse will be giving away a free Bloomin' Onion to every veteran and military member on Veterans Day. The restaurant is also giving out a military discount of 15 percent off the total check from November 12 until the end of the year. This offer is valid for members of the military as well as their families.
Golden Corral
From 5 p.m. to 9 p.m. on Veterans Day Golden Corral buffet is offering one free buffet and free beverage to veterans and active duty military. This includes retirees, veterans, National Guard or Reserves. No identification is required for this free meal.
Red Lobster
On Thursday, November 10 and Friday, November 11 veterans can receive an appetizer or dessert at Red Lobster for free.
Texas Roadhouse
Veterans can enjoy a free lunch on Veterans Day at Texas Roadhouse. This offer is dine-in only and the hours in which the free meal is available may differ from location-to-location so be sure to call ahead and confirm with your local Texas Roadhouse before heading out.
TGI Fridays
TGI Fridays will be giving free meals on Veterans Day to any veteran or active duty military personnel. This offer is valid from 11 a.m. until 2 p.m. You will be required to provide military ID to get this deal.
O'Charley's
Veterans and active duty military can get a free meal on Veterans Day from O'Charley's. Military members will be able to get a free meal from the $9.99 menu at participating O'Charley's locations. The restaurant is also giving veterans a 20 percent off voucher for their next visit.
Chipotle
From 3:00PM to close on Veterans day veterans, U.S. military and U.S. military spouses get a buy one get one free burrito, bowl, salad or taco.
Red Robin
Veterans and active duty military will receive a free Red's Tavern Burger and steak fries at participating restaurants. Call ahead to confirm.
Buffalo Wild Wings
Buffalo Wild Wings is offering a free small order of boneless or traditional wings along with a side of fries.
If you or a member of your family is a veteran or active duty military tomorrow is the day to take advantage of some of the great deals being offered as our way of saying thank you for your service. Remember many of the offers require proof of I.D. or a uniform.
Check out some more of the deals here.
Photo: Georgia National Guard
Like Saving Advice? Subscribe!
Subscribe to get the latest Saving Advice content via email.