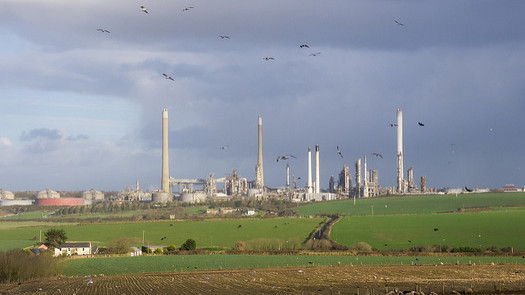 September 13. 2016
Ohioans living near oil refineries earn about $20,000 less than those in other regions. (Ed Webster/Flickr)
COLUMBUS, Ohio – Ohio is among the top 10 oil-refining states in the nation, and a new report examines the potential economic impacts of the industry on local communities. The FracTracker Alliance looked at neighborhood prosperity in the census tracts where refineries are located.
Great Lakes Program Coordinator for the group, Ted Auch, said they found people living in the shadow of 80 percent of refineries in North America earn about $16,000 less annually than those in surrounding regions. And in Ohio, he notes, it's $20,000 less.
"The take-home message is, poorer communities are being made poorer or being cited as such for this infrastructure and have been for many, many years now, and I'm not saying that's right or wrong but it's a fact, and we prove that with this analysis," he explained.
Auch contended the findings are important to consider given the dozens of proposals associated with the expansion of shale gas development in Ohio. He said the next step is an examination of other quality of life indicators encapsulated in income, such as health and education. While Ohio produces less than one-percent of the nation's crude oil, production in 2015 doubled to more than 26 million barrels.
Auch also noted it's difficult to assess if oil refineries were constructed in regions already poor, or if lower incomes were a result of the operations.
"I don't know chicken or the egg, but these things being there, they're not making anything better, that's for sure," he added. "That's from seeing these communities, whether its Canton or Lima and Toledo. The people near the oil refineries in Ohio are making $20,000 less than their neighbors across the state."
Auch said another impact to monitor down the road is the issue of internally displaced people. He explained just as refugees flee war-torn countries, the rapid expansion of oil and gas infrastructure could displace people in Ohio and other states.
"You're going to see large chunks of these communities just getting up and leaving because they cannot live next to this infrastructure anymore," he said. "And what do we do for those people? What's the cost benefit of that? Really large questions that I don't think anyone's really talked about."
Source: Public News Service, Republished With Permission.
Author: Mary Kuhlman, Public News Service – OH