Social Security
is a standard benefit that most retirees look forward to enjoying once they reach their retirement years. Based on income and payment into the Social Security system, retirees can begin claiming benefits as early as age 62.
But should they?
Many retirees will actually benefit substantially by waiting to claim Social Security benefits. That's because the older you are (up to age 70) the more you will receive in benefits.
According to the Social Security Administration, the difference in monthly benefit can be hundreds of dollars. An example given by the SSA shows a hypothetical situation in which an individual who claims his benefit at 62 can qualify to receive $750 per month, or by waiting until age 70 to begin claiming benefits, can qualify to receive $1320 per month—a difference of $600.
The benefits increase slightly for each month an individual delays taking Social Security benefits.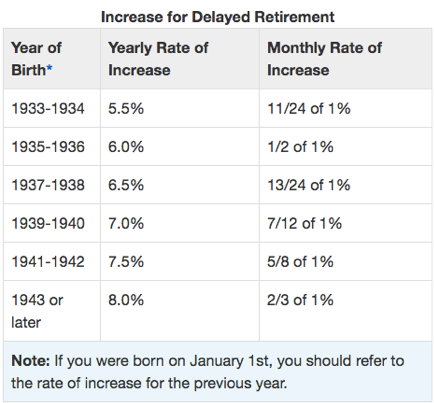 Source: Social Security Administration https:
//www.ssa.gov/planners/retire/delayret.html
Each individual situation is different, but if you're aiming to delay taking Social Security in order to enjoy greater benefits, there are a few ways you may be able to achieve this.
1. Work longer. The simplest way to delay taking Social Security in the first place is to keep making income by continuing to work. Life expectancy is increasing over time and many older Americans are opting to keep working.
Continuing to work, for those who are able, can also provide additional benefits such as employer sponsored health insurance.
Some studies show that remaining engaged in the workforce can also have health benefits for the aging population.
2. Pursue additional income sources. If you have decided to retire from your full-time job, consider part-time work or flexible income streams.
In today's "sharing economy," there are many non-traditional work opportunities that did not exist several years ago. This might mean driving for Uber or Lyft, in which drivers are paid on a per-ride basis, or exploring an option like Airbnb, which can allow you to rent out a property you own on a per-night basis. These income options are not guaranteed, but they are very flexible in that they allow you to "work" when you want, without having to adhere to a set schedule.
Some retirees have also downsized or have used their primary home as a rental property for this same purpose.
3. Tap into your home equity with a reverse mortgage. A third option is to tap into your home equity to help with living expenses and prolong the need to claim your Social Security benefits. A government-insured Home Equity Conversion Mortgage (HECM) offers several different options to borrowers when it comes to accessing their home equity.
Qualifying borrowers may take their reverse mortgage proceeds as a lump sum, as ongoing or monthly payments, or as a line of credit that can be utilized at any time, for any purpose. The HECM program has recently gone through several important changes that make reverse mortgages safer for borrowers, and many financial planners are recommending them to clients as part of a comprehensive retirement plan.
Whether you intend to work longer, take on alternative work, or tap into your home equity, delaying Social Security benefits can be a major boost to your retirement finances down the road.
If you're interested in tapping into your home equity to help achieve this goal, contact a reverse mortgage professional or your trusted advisor to learn more.
Photo: Flickr: 401(K) 2012