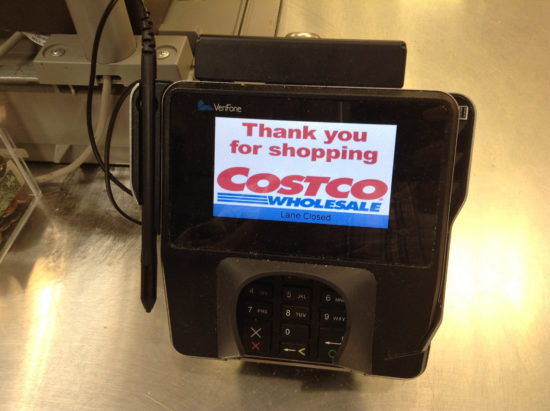 Costco Wholesale Warehouse (NASDAQ: COST) ended a great year in sales and stock. 2015 was a not-so-great year for many retailers, however, Costco seemed to shine throughout the past year.
Shares of Costco Wholesale Warehouse Club saw a significant rise in 2015. In fact, stock rose 14 percent and hit an all-time high of $169.73 during the year. It ended 2015 at $161.50 a share.
There is one clear reason that Costco has done so well, according to experts, and that is consistency. Costco outperformed other retailers during 2015 because they have remained consistent.
A huge reason why many retailers saw decreases in stock in 2015 was because of the rising wage bills throughout the United States. Many states are petitioning to raise wages for workers, however, it is hurting some companies. For instance, in 2015, Wal-Mart will likely share a 10 percent decline in the current fiscal year, and has already prepped its shareholders for another decline in the coming year.
By comparison, Costco has always paid its employees well, so the pay increases will not likely effect the company much at all. In fact, the company has showed nothing but stability in the face of a strong dollar and declining gas prices. In the 2015 fiscal year, revenue rose for Costco by 3.2 percent and rewarded shareholders with a special dividend last year.
In the first few moments of the 2016 fiscal year, Costco saw a slight slump in sales, however, it has not hurt the company much. Some one-time items being sold affected the company's sales during the first quarter. Its underlying performance, however, is still strong.
People interested in investing in Costco will likely be willing to pay a larger premium because of Costco's reliability. It has reliably produced strong results for its shareholders and plans to continue to do so, so shareholders can sleep well knowing their money is in Costco's hands, so to speak. This is different from other retailer, such as Wal-Mart, that seem to simply go from one crisis to the next.
Another factor that will likely affect Costco's business this fiscal year is the switch from American Express to Visa. Costco's credit cards, for years, have been American Express, however, the company decided to move forward in 2016 with Visa. Visa will offer the company lower fees. Visa is also more user-friendly. The customers who have credit cards through Costco will be able to use their card more places. American Express, on the other hand, is not accepted as many places.
Moving forward, Costco won't likely see any decline in stock or shares any time soon. Shareholders are looking forward to a long-term upward trajectory with the wholesale company, and Costco is happy to provide.
Stability and smart business decisions is what drives Costco forward, and the company's executives plan to continue driving the revenue, shares and overall Costco experience upward.
For more info on Costco check out these articles.
Is the Costco Membership Fee Worth it?
Is a Costco Executive Membership Worth the Price?
Costco Gas Calculator: Will I Save Money Buying a Membership if All I Buy is Fuel?
You can check out our articles for Target as well.
Target Holiday Schedule and Store Hours