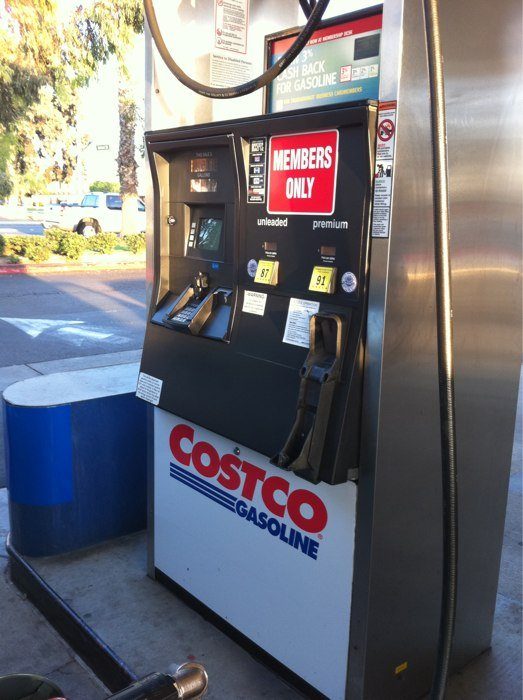 Costco gasoline stations are marketed as offering members a great value on high quality fuel. Among their advertised advantages are stations which are designed for fast refueling, with long hoses which allow customers to fuel from both sides of their vehicle. But, are the stations open when you need them?
When Are Costco Gas Stations Open?
On weekdays Costco gas stations are typically open from 6 a.m. to 8 a.m. (and some even at 5 a.m.), and close between 7 p.m. to 10 p.m. These extended opening hours appeal to everyday commuters that drive to and from work every day, but who only shop at Costco Warehouse once in a while. Costco weekend gas hours are typically shorter than they are during the week, but the hours of operation are still longer for the stations than for the stores. Pump hours begin at between 6 a.m. to 7 a.m. in the morning, and close between 7 p.m. and 10 p.m. Some stations will close a bit earlier on Sundays than on Saturdays.
Store and gas station hours can change throughout the year, particularly during holiday seasons. The gas station and store typically being open longer Monday through Friday. It is important to call the local Costco store and verify exact hours that they are open on a particular day. However, the hours that Costco Gas stations are typically open are:
Monday: 6 a.m. – 9:30 p.m.
Tuesday: 6 a.m. – 9:30 p.m.
Wednesday: 6 a.m. – 9:30 p.m.
Thursday: 6 a.m. – 9:30 p.m.
Friday: 6 a.m. – 9:30 p.m.
Saturday: 6 a.m. – 7 p.m.
Sunday: 6 a.m. – 7 p.m.
When Are Costco Gas Stations Closed?
Costco Gas stations are closed on:
Independence Day
Labor Day
Easter Sunday
Memorial Day
Thanksgiving Day
Christmas Day
New Years Day
Costco Gas Prices
Costco can typically offer gasoline for about 6 to 12 cents a gallon below local competitors' prices, this is one reason why the gasoline sales account for 10 percent of the company's revenue. The company does not show their gas prices on their website, partly because gas prices are subject to a high degree of market fluctuation as well as differences in local taxation structures.
Do I need a Costco Membership to Buy Costco Gas?
Only Costco members or Costco Cash Card customers can make purchases at Costco stations.
What Kind of Gas do Costco Gas Stations Sell?
Regular Unleaded (typically 87 octane), Premium Unleaded (typically 91 octane). Diesel fuel is sold in some locations. Octane requirements can vary by state. Costco buys fuel from major refineries and distributors in each area. All of Costco's gasoline is fully guaranteed, just like the merchandise they sell in their warehouses.
Is Costco Gas The Cheapest?
Your local Costco Gas station will typically often offer the lowest gas prices in the immediate area. However, when evaluating whether or not Costco Gas is a good deal you will need to review other deals in your area. For example, many supermarkets such as Safeway or Fred Meyer offer per-gallon discounts on a particular brand of gas based on what you spend on groceries. So if you are buying gas after you shop, the amount you save could be substantially more per gallon than the discount Costco offers. You will also need to factor in the cash back rewards on any credit card you might be using.
To make a better decision on this, check Costco's official US homepage and Canadian homepage. If Costco isn't providing you enough information you can use Priceviewer.com or Yelp.com to search for individual gas station hours in your state. We recommend using the GasBuddy App to see up-dated Costco gas prices, or to visit www.gasbuddy.com and search for your local city.
In general, if you're an all-around savvy shopper you should approach every gas run as strategically as any other shopping you do. First consult GasBuddy to find the least-expensive gas prices around and plan on filling up at a time and place where you know you'll be by cheap fuel. Also by using grocery-chain gas discounts wherever you can snag them, you'll be able to save larger increments of cash at the pump.
Consider using this handy calculator to estimate your costco gas savings.
As always, if you know the local hours of your Costco gas station, please feel free to leave a comment.
For more info on Costco check out these articles.
Is the Costco Membership Fee Worth it?
Is a Costco Executive Membership Worth the Price?
Costco Gas Calculator: Will I Save Money Buying a Membership if All I Buy is Fuel?
You can check out our articles for Target as well.
Target Holiday Schedule and Store Hours
Like Saving Advice? Subscribe!
Subscribe to get the latest Saving Advice content via email.