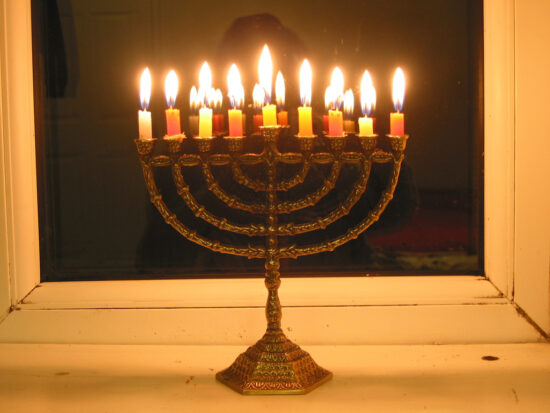 The first full day of Hanukkah is Monday, with the evening prior being the first night Jewish people will be celebrating it. The holiday, which puts a large interest in spending time as a family and recognizing the miracles of everyday life, is something many Jewish people hold near and dear to their hearts. This is because all the memories made during that time of the year with their families, and what they really remember likely didn't cost a lot of (or any) money.
While there are not many places handing out freebies for Hanukkah, there are plenty of free things to do. And if you are looking to print things out to enjoy with your family, there is a plethora of free printable material for Hanukkah.
Free Menorah for Kindle
Since everyone in this day and age has a tablet, Amazon is offering a free "menorah" for one of its more popular items – the Kindle. Obviously this isn't a real, fire-burning menorah, but if you are low on cash, you can still celebrate the festival days.
Free Books
In addition to the free faux menorah, there are also free children's books you can acquire online. A very important part of Hanukkah is being able to tell the children celebrating stories. Whether it is the "true story" of Hanukkah – telling about the eight branches on the menorah – or a story telling about the true meaning of Hanukkah, children love to be read to. There are plenty of free books online and on tablets that you can use for Hanukkah.
Hanukkah Music
There are always free music downloads to be had on the Internet, so if you are looking for some traditional Hanukkah music to play during a family gathering, look no further. You can find plenty of free Hanukkah music on the Web.
For Teachers
Teachers are some of the people that benefit most from free printable material online. There are many free lesson plans and worksheets about Hanukkah on the Internet. Most schools don't do a full lesson plan on Hanukkah, but some teachers will take time to do a lesson plan about Hanukkah so that the children in the class can learn about a different holiday and a different culture.
Other Free Things for Hanukkah
Printable Hanukkah Cards – People can print one-of-a-kind cards to decorate and give to family members. This can be a fun activity to do with kids, and you can give the personalized cards to other family members.
Hanukkah Fonts – Sometimes you need just the right font to send a letter, email or e-card, maybe you are even making a banner. Either way, you can download free Hanukkah fonts online so that your Hanukkah material is perfect.
Hanukkah Wallpapers – Everyone uses different wallpapers on their phone. You can get free Hanukkah wallpapers online and possibly even through your mobile carrier to celebrate the holiday in every way.
Celebrating any holiday can be pricey, but it doesn't have to kill your bank account. By taking advantage of the free things offered for each holiday, you can really get into the holiday spirit and enjoy the season without spending too much.