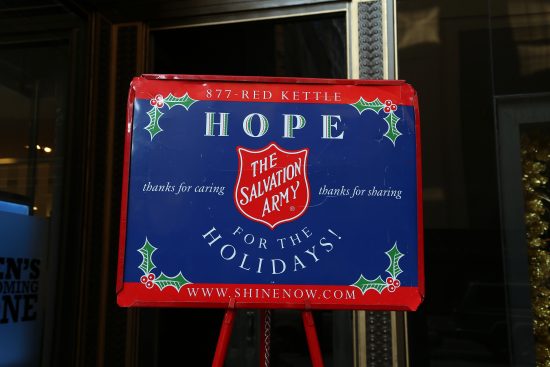 Many people went shopping last weekend. They started on Thursday night with doorbuster sales, went Black Friday shopping, supported local businesses for Shop Small Saturday and shopped online for Cyber Monday. However, many people are taking one more day to shop for Giving Tuesday. The less-popular shopping day supports your local charities.
What is Giving Tuesday?
Giving Tuesday, also supported by the hashtag #GivingTuesday, is a day that was thought up by the Salvation Army. Most people have thought about getting themselves or someone in their lives something special the past few days. Many also spent a day (on Thursday) being thankful for everything they had. Giving Tuesday is a day to give back to your community and local charities in the area.
Where can you support Giving Tuesday?
Giving Tuesday sounds like a great idea. It is a chance to give back to your community during the season of giving. How can you help today?
• You can buy clothing or other items at your local Salvation Army to show support. Thrift stores have become increasingly popular and you can usually find something there for everyone.
• Donate clothing, furniture. By donating items to the local Salvation Army or Goodwill, you can show support of Giving
• Slip a couple dollars into the red bin. We all see Salvation Army employees with their bells outside the malls, department stores and even Walmart, give Salvation Army a couple dollars to help out.
Though Salvation Army is one of the largest organizations that has supported Giving Tuesday, the day provides an opportunity for you, your family and even your company give back to an organization in your community.
What does Salvation Army do?
It is hard to list everything the Salvation Army does in its prospective community. The organization largely fights to end homelessness. They help families during disaster (natural disaster, house fire, flood, etc.).
Project Angel Tree is a great program run by the Salvation Army. People throughout the community are able to pick up and angel and buy gifts for a child whose family may not be able to buy enough for Christmas. Angels usually give clothes size, hobbies of the child and a toy they have been asking for.
Salvation Army organizations throughout the nation also help people fighting addiction. They have programs that help people who are struggling to kick a bad habit, whether it be alcohol or drugs.
In addition to fighting homelessness, the Salvation Army also provides work for many people throughout the United States, including veterans, people who have fought addiction and those who are disabled.
About Giving Tuesday
• In addition to the Salvation Army, there are 30,000 partners in 68 countries worldwide participating in Giving Tuesday. This includes small businesses, nonprofits, government agencies and major corporations.
• Since it was started in 2012, there has been a 470 percent increase in online donations on the Tuesday after Thanksgiving.
• Giving Tuesday has made more than 32 million Twitter impressions.
• There are more than 40 civic campaigns for Giving Tuesday throughout the United States.
If you are out and about today, or simply online, stop for a moment and donate to a charity near you. Whether it be stopping to slip some change into the Salvation Army bin or donating to your favorite charity online, Giving Tuesday is a day to give back.