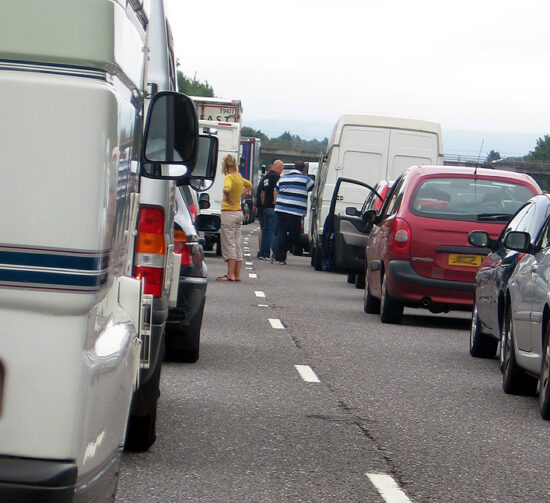 Many people will be traveling next week for the Thanksgiving to visit with family and friends. People will drive hundreds of miles to sit around the table and enjoy a holiday feast, but are you aware of the dangers holiday travel poses?
Up to 42 million Americans will be hitting the road next week for Thanksgiving. The National Safety Council if estimating that 433 people will die in traffic accidents over the four-day Thanksgiving weekend. In addition, 52,300 people will receive injuries in vehicular accidents that require medical attention over the weekend. While these numbers seem scary, the NSC said that they aren't meant to scare people. The numbers are meant to increases safety while driving.
"Our goal for providing these estimates is so people can think about the steps they can make to be safe– always buckling up, not speeding, never drinking and driving and not being on their cell phones — to help them be safe on the way to that family get together," said Kenneth P. Kolosh, manager of the council's statistics department.
Law enforcement agencies and other advocates are urging people to practice safe driving techniques which include wearing a seat belt, which can save many of the lives projected to be lost over the holiday weekend. The use of seat belts, according to the NSC, could save up to 164 lives during the Thanksgiving holiday. Only 87 percent of Americans use their seat belts. The 13 percent that do not are left extremely vulnerable to dying in a car crash.
A recent report has shown that fatalities due to car accidents are on the rise during 2015. The NSC said that the two top contributing factors to car fatalities this year have been alcohol and speeding. Around the holidays, the numbers continue to rise.
"Each Thanksgiving, we begin another holiday season while remembering all we are grateful for," said Deborah A.P. Hersman, former chairman of the National Transportation Safety Board. "But do not let the frenetic pace of the season rush you on the roads. Be alert and drive defensively so you can celebrate at home, not sit in the emergency room."
There is not a huge increase in vehicular deaths over Thanksgiving, but the number does rise. However, holidays that are notorious for alcohol-related festivities, like New Years, tend to be the deadliest.
According to recent data, about 30 percent of all road crashes include one impaired driver. That number rises to 33 percent during Thanksgiving, 40 percent on July 4th and 44 percent on New Years Eve.
Advocates are encouraging people to not drink and drive, as always. They have also discouraged people from driving while tired this holiday season and to think twice before you allow your teenager to go driving around with their friends.
If you are traveling over the Thanksgiving holiday, be sure to follow the regular safety procedures that you follow during everyday driving (wearing your seat belt, safe following distances, etc). Also, be proactive and watch out for drivers that may be intoxicated or driving while they are less than alert. Simply keeping an eye out for other drivers could save your life.