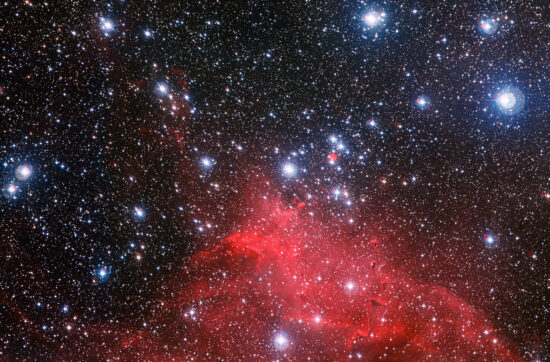 Individuals are often used to thinking of our universe and its stars as infinitely old. However, 2015 research from the European Space Agency's Planck satellite suggests that our stars are likely 100 million years younger than scientists had previously assumed.
To give some context, scientists believe the Big Bang happened 400 million years before the first stars were created. The very first galaxies were also created at this time. Our solar system was created about 4.6 billion years after the Big Bang. Thus, it's important to realize that 100 million years isn't that much of a stretch of time when putting the order of events into context. However, this research is significant in that it changes the rate at which everything was created, since stars took 100 million fewer years to form.
The researchers arrived at this new conclusion by studying the cosmic microwave background, or the remaining light left over from the Big Bang. This
light
is manifest as a "
static haze of light that fills the entire universe
" and given that it has continued to radiate throughout the universe, scientists can study its signals in order to better determine the history of certain space events. From their data, the scientists concluded that there existed a "period of light" (following the universe's dark ages) approximately 100 million years earlier than previous estimates. This may change everything about the origins of our universe.
As Marco Bersanelli, one of the main collaborators for this research said in a statement, "While these 100 million years may seem negligible compared to the universe's age of almost 14 billion years, they make a significant difference when it comes to the formation of the first stars," which came after that first period of light.
Beyond lighting up the dark sky, stars played an important part in the formation of our early universe. According to Space.com author Calla Cofield, not only did the formation of stars and galaxies help to end "the universe's 'dark ages," but their formation also dispelled a fog of hydrogen atoms that had filled the cosmos at the time and blocked most wavelengths of light (the reason why the universe was dark).
Furthermore, Cofield writes that the stars and galaxies then created photons, which destroyed atoms in a process known as reionization. This process also helped to create galaxies known as quasars with black holes at their centers, some of which have masses two billion times that of the Sun.
Another collaborator and member of the Planck Collaboration, Francois Bouchet, told Space.com that though the researchers have identified the likely time when stars and galaxies began, scientists still do not know when specific stars were formed. In particular, some researchers have identified rare stars that were likely formed before the end of the dark ages.
Other questions about our universe still remain. For example, scientists are interested in learning how long it may have taken to form light and subsequently the stars and galaxies. As Bouchet said, "Later on, we will want to know what is the duration of that period. We [also] want to be able to say when 20 percent of the universe was deionized, and then 30 percent… that's the ultimate goal."