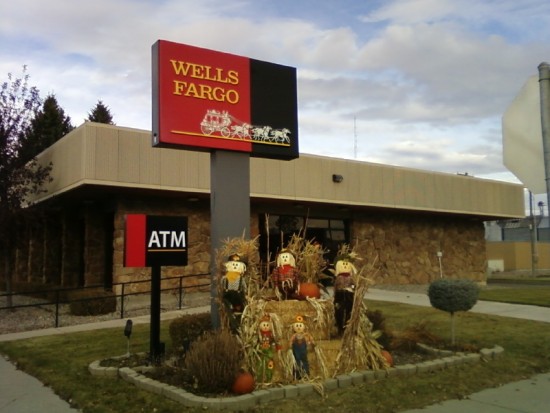 Halloween is a tricky holiday to know if a business will be open. Some business are closed. Some are open as if the holiday isn't happening. Some businesses are only open around Halloween like those popup stores you see come to the mall each fall… or haunted houses. This holiday is a tricky one for knowing store hours. This is especially true since Halloween falls on a Saturday in 2015.
With that said, Wells Fargo will actually be keeping regular hours on Halloween. For most branches, this means the branch will close at 1 p.m. Remember that online banking and ATMs have no hours. This means if you need extra candy money, there are still plenty of ways to get the cash. If you definitely need cash on these days, check the
Wells Fargo ATM and Bank Locator
. It shows all banks which have Saturday hours, Drive up ATMs, 24-hour ATMs, notary services, stamp sales, and foreign currency exchange. This is a great way of finding a bank without driving over there first. That takes too much time and costs too much money. Note: If you want cheap Halloween candy, take your new wad of cash and head to
Sam's Club
or
Costco
. They are both open on Halloween.
Most banks don't change hours for Halloween. Most bank and credit unions only have lobby hours in the morning anyway. There is a lot of business typically done on Halloween so why close? The fun doesn't start until later in the day anyway.
Wells Fargo does observe many holidays. The following is the Wells Fargo holiday schedule for 2015:
Jan 1st – Thursday – New Year's Day
Jan 19 – Monday – Martin Luther King Day
April 5 – Sunday – Easter
May 25 – Monday – Memorial Day
Jul 4 – Saturday – Independence Day
Sep 7 – Monday – Labor Day
Nov 11 – Wednesday – Veterans Day
Nov 26 – Thursday – Thanksgiving
YES, Wells Fargo will be open on Black Friday
Dec 24 – Thursday – Closes early (check individual branch for time) Christmas Eve
Dec 25 – Friday – Christmas Day
Dec 31 – Thursday – Closes early (check individual branch for time) New Year's Eve
Most banks aren't open on Saturday afternoons. This is mainly because banks make money when lending out large sums of money. Most of these deals happen during the week. It's because these types of deals happen with either other businesses or with home buyers who must work with other businesses to get funding. That is why banks are only open during hours which are convenient to other businesses. Although you and I may want to bank on Halloween, very, very few businesses will be making deals and signing checks on this day. Yes, this does inconvenience many people but the big shots are not inconvenienced by this. Know that banks make their money with loans and overdraft fees. Loans are done during normal business hours and overdraft fees don't need a branch open. Those take care of themselves. Also, to keep good employees, Wells Fargo and other banks need to give them stable hours. Few people enjoy working evenings and weekends. Crime also goes up during these times, so having the bank locked up is a good precaution.