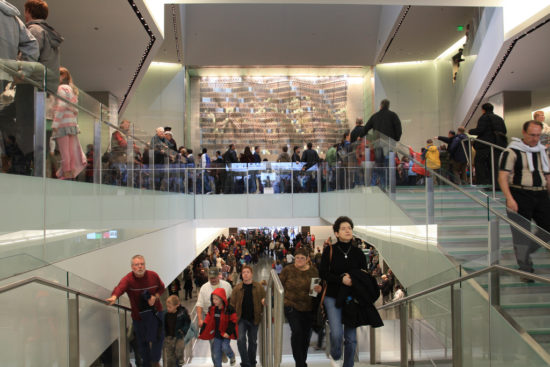 Does Columbus Day have better sales than Black Friday? Perhaps. Reason being, stores are desperately trying to make space for Halloween, Thanksgiving and Christmas. Furthermore, the summer is usually a time of drought for many retailers. Consumers are spending time outdoors instead of in stores.
This results in retailers who desperately want the attention of the shopper. Furthermore, they want to keep your attention throughout Halloween, Thanksgiving, Black Friday and Christmas. Retailers know the best time to get in front of the customer is as soon as possible.
There are many Columbus Day deals to be had. See our list of the hottest shopping deals of Columbus Day 2015. Stores are offering anywhere from 15% to 90% off merchandise even though many states don't even recognize the day.
Another reason Columbus Day offers amazing sales is because fall is in the air. That means summer clothing needs to exit quickly in order to fill the shelves with bulky winter clothing. Louis Ramirez of Deal News, says most apparel stores (including Nike, Adidas, and Puma) offer around 50% off for this holiday. And since not many people recognize Columbus Day as a massive shopping holiday, stores aren't packed like they are during Black Friday.
Louis Ramirez has even seen stores offer as much as 90% off from stores such as Last Call by Neiman Marcus, 6pm and Shoebuy.
Columbus Day is also a fantastic time to get Christmas shopping done early. A little planning goes a long way. Even though you want to get your shopping done early, it doesn't mean you must lose out on sale prices. However, Louis Ramirez says bigger buys can be had for bigger discounts by waiting until Black Friday. However, we found Sears to be having a phenomenal sale on appliances. Here are the takeaways for why Columbus Day 2015 can offer better sales than Black Friday
Stores want you back after a long summer break
Summer clothing needs pushed out for winter merchandise
You can get your Christmas gift purchases out of the way early
Not as many people know about Columbus Day sales which means stores will be less crowded and less stressful
You can get special buys on things you'll need for the holidays: Halloween candy, decorations and the like!
Will you get time off to shop these sales?
Although Columbus Day is a federal holiday, most people still must work. Banks are closed, post offices are closed but many schools, businesses, retailers, the stock market and places of business remain open. However, that's okay for most people. When looking for deals, we found that most retailers offer the same savings online as in-store. This means shopping is easier than ever – even if you have to do it from your desk at work. Just remember to do it on breaks only.
To recap, Columbus Day sales are nothing to sneeze at. Stores from throughout the spectrum are offering discounts up to a rumored 90%! Now is the time to take advantage as most sales begin the weekend before Columbus Day. Act fast!!!