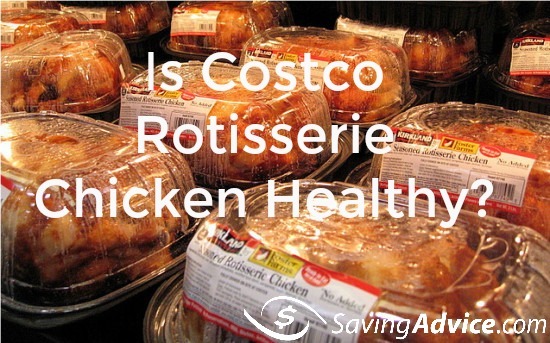 Every Costco shopper can attest to falling prey to the trap of the rotisserie chicken. You know how the story plays out. You are almost finished filling your
shopping cart to overflowing
with all of your favorite products in bulk. You're tired, you're trying to decide what on earth you will make for dinner. About this time, you pass by the golden-brown rotisserie chickens turning slowly on the spit. They call out to you. It seems like you have found the perfect solution to your dinner dilemma. To top it off, these plump and juicy chickens are available for the bargain price of $4.99. Problem solved, right?
We all know Costco rotisserie chickens are economically priced, convenient, and undeniably delicious. It's items like this that often convince people a Costco membership is worth the price. However, with all of the push for healthy eating these days, many consumers are left wondering if they are the healthiest option. Perhaps one of the reasons the Costco rotisserie chickens are so tasty is because they are juicy and plump. This is probably due to the fact that there is a quicker turnover rate at Costco than at a lot of other stores which offer rotisserie chickens. Costco only leaves its chickens on the spit for two hours, then they are taken to the back and used in other recipes. The fact that they are not left to turn on the spit for hours on end means that they will be less dry, so that is something in their favor.
The ingredients in the rotisserie chicken are:
whole chicken
water
salt
sodium phosphate
modified food starch
sugar
carrageenan
soy lecithin
flavorings
xanthan gum
They are also said to contain no preservatives, MSG's, gluten, artificial flavors, or artificial colors. As for nutrition information, Costco rotisserie chickens also have 460mg of salt in a 3 oz. serving, so those needing to watch their sodium intake may want to take note. They are also high in cholesterol, but fairly low in sugar. The chickens are brined, which is what makes them so juicy and tender, but it is also the cause of the large amount of sodium per serving. Despite the fact that the chickens are rather sodium-heavy, they are an excellent protein source, and as long as you don't eat the skin; they are a lower-fat meat option.
To show just how popular the Costco rotisserie chicken is, one only needs to do a brief internet search. There are seemingly unlimited sites discussing the pros and cons of the Costco chicken. Did you know that the Costco rotisserie chicken even has its own Facebook page with about 4,500 likes? The Facebook page is full of comments from Costco chicken consumers. It is also loaded with a plethora of recipes for things you can do with the chickens.
A couple of years ago, despite disappointing financial results, Costco refused to raise the $4.99 price tag on its chickens. Consumers of the Costco chicken were grateful, as it seems the prices of so many things keep rising.
So, what is the takeaway on the question of whether the Costco chickens are healthy or not? It seems like most things in life, moderation is key. While the cholesterol and sodium levels should be concern enough for you not to consume the chicken on a daily basis, every once in a while, a Costco chicken can be an acceptable meal. It is a great protein source, and there are very few meals which you can feed your family for the bargain price of $4.99.
For other great products you can buy at Costco check these articles out.
A Review of Costco Cakes
A Guide to Costco Wine
How Much Is a Gallon of Milk at Costco?