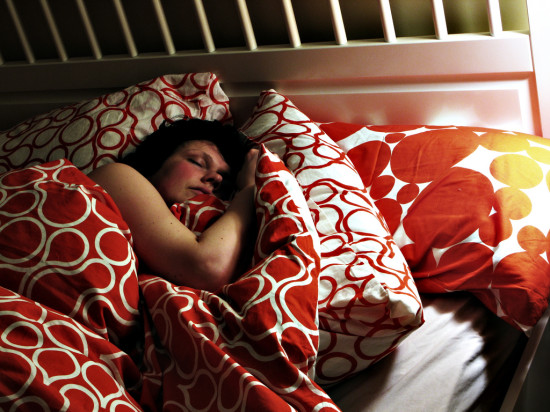 Enough quality sleep is important for a number of reasons. Not enough can indicate
alcohol and drug abuse
later in life. It can also
cost you a lot of money
. It may also determine your sex drive.
In an article titled, "Can Medicine Boost Female Sex Drive," author Martin Downs, MPH writes that a drug capable of increasing female sex drive "could be worth billions." However, two of the most promising treatments, Intrinsa, a testosterone patch and Flibanserin, which works like an antidepressant, have faced serious challenges in presenting evidence to the FDA demonstrating the drugs' effectiveness and safety.
Cindy Whitehead, the founder and COO of Sprout Pharmaceuticals, which is focused on producing and marketing Flibanserin, has criticized the FDA for the organization's slow movement on issues pertaining to female sexual dysfunction, or FSD. Speaking to ABC News, Whitehead said, "There are 25 approved drugs for some form of male sexual dysfunction, but still a great big zero for the most common form of FSD."
But recent research suggests that for those women interested in increasing the frequency of their sexual encounters, an additional hour of sleep might go a long way especially with no other pharmaceutical options.
In a pilot study from researchers at the University of Michigan, the Sleep Disorders and Research Center in Detroit and Kent State University, David Kalmback and his colleagues used a longitudinal study design to follow 171 women who were not taking antidepressants and had reliable Internet access to complete web-based surveys about their habitual wake time for 14 days.
The authors found that those who slept for longer periods of time reported greater "next-day sexual desire." In fact, an increase in sleep length of only one hour corresponded in a 14 percent increase in the likelihood that a woman would engage in a sexual activity with her partner the following day. As well, the authors reported "women with longer average sleep duration reported better genital arousal than women with shorter average sleep length."
As Kalmback told CBS, "If there's anything women or their partners can do to help promote good sleep for one another, whether it's helping out around the house to reduce workload…it could help protect against having problems in the bedroom."
For now, this information will have to suffice for women experiencing low sexual desire, though it may not be enough for some, in particular those with Hypoactive Sexual Desire Disorder (HSDD). As gynecologist Lauren Streicher told ABC News, HSDD is a very specific and distressing condition for women, which can be very worrisome and frustrating despite the best efforts of women to increase their sexual desire.
Interestingly, the continued rejection of pharmaceutical interventions ("Viagra for her") by the FDA for female sexual dysfunction has led to accusations that sexism is rife in the organization. Still, other doctors argue that sexual desire varies from person to person and Dr. Adriana Fugh-Berman, an associate professor at Georgetown University Medical Center, warns that this variance "doesn't make it a disease."
As some women wait for a prescription, others can try to get more sleep. For the authors of this most recent study, they hope to pursue future research in which they investigate the extent to which sleep disorders are a risk factor for sexual dysfunction.
(Photo courtesy of Phil and Pam Gradwell)