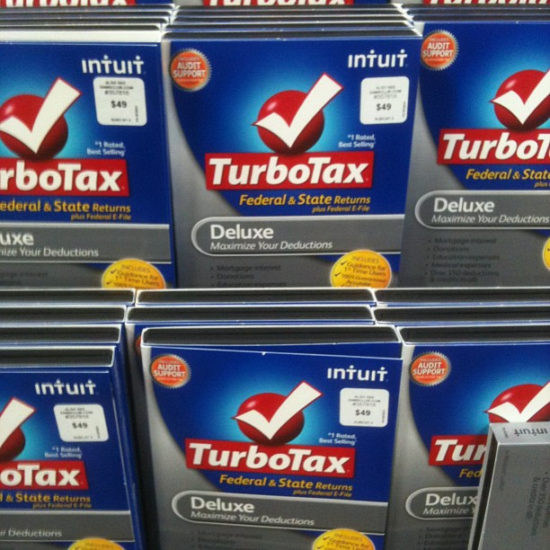 It seems that there are a lot of longtime TurboTax customers who aren't thrilled with some of the changes Intuit has made to the 2014 edition of their tax software. The drama is taking place on
Amazon Reviews
, where the usually well rated software is currently sitting at 1.5 stars with nearly 500 one-star reviews and less than 75 five-star reviews.
The main outcry is due to Intuit downgrading their Turbotax Deluxe version. In past years, the TurboTax Deluxe version included schedules C, D, E, F, and K-1. This year those forms aren't part of the Deluxe version, and those needing the forms must pay an extra fee to upgrade to the TurboTax Premier edition. This isn't sitting well with many longtime Turbotax customers who have used the forms in past years.
In trying to explain TurboTax's reasoning for the change to the frustrated customers, Bob Meighan, VP at TurboTax has written the following,
"The decision to change our product functionality was not an easy one. We understand this change is not popular, especially when it affects you. Taking something away is always tough, but we had to make this change at some point to provide consistent product functionality across our desktop, Online and mobile TurboTax solutions. Last year almost 10 million of our customers (out of 28M) prepared their return using multiple TurboTax solutions, which for some caused confusion and frustration as a result of the different functionality. We put off this change for over 5 years, but couldn't defer it any longer. The changes we implemented this year on desktop were already part of the other TurboTax platforms. While this may be irrelevant to you, it will become an issue for many others in the future as most customers will eventually prepare their return on multiple devices (prepare on one device, review on another and maybe even file from another)."
This response hasn't quelled the frustration and anger of many writing reviews. In fact, the fuss has been loud enough that it appears Turbotax is giving free upgrades to those who call Turbotax at 800-445-1875 (8am – 8pm EST M-F) and complain about this change. As many of the angry reviews note, this is only a one-time deal and won't solve the issues for future years.
The people over at H&R Block have taken notice and are trying to turn TurboTax's troubles into a marketing advantage for themselves. H&R Block is offering any impacted TurboTax customer a free copy of the H&R Block Deluxe + State tax software for 2014. Many of the federal forms and schedules that are no longer included in TurboTax Basic or Deluxe are still included in H&R Block software at no additional charge.
This isn't an official offer which can be found on the H&R Block website, but an email campaign. H&R Block has now made the campaign official with a press release on thier site. For those who have already purchased TurboTax Basic or Deluxe and who would like to try the H&R Block tax software, they can email H&R Block at SwitchToBlock@hrblock.com — the following information must be included to get the software:
Name, address, and phone number
Type of operating system in use (Windows/Mac)
A photo, scan, or email showing proof of TurboTax Basic or Deluxe purchase
Once received, H&R Block will then send a link for one free download of H&R Block Deluxe + State tax software. This offer is open ended and appears it will last through the entire tax season, although they do state they have the right to end the offer at any time. In addition, H&R Block will even help recipients get started by importing their last year's tax return from TurboTax into the H&R Block tax software.
(Photo courtesy of Charles Barilleaux)