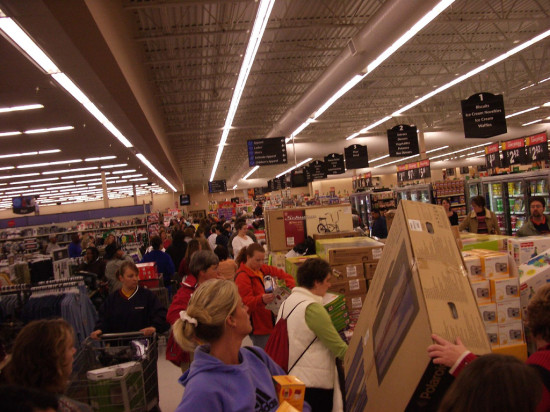 It's that time of the year again when retailers are trying to entice you into their stores to spend all of your hard earned money. Commercials and advertising inserts are telling you what great bargains abound if you just visit their store this Black Friday, but what stores are really offering the best discounts?
There are plenty of reason to skip the Black Friday sales, but if you have decided to brave the crowds to try to score some deals, it's important to know which retailers are offering the best of them this year. This year many retailers are opening their doors on Thanksgiving Day to try to entice you with their deals (while others are refusing to do so). Where you might imagine the best Black Friday deals to be, and the actual list of top Black Friday deals, may surprise you.
WalletHub has completed its Black Friday retailer survey and released their list of the best and worst Black Friday deals. This is a list you may want to take a close look at as you plan which stores to invade in the late night hours of Thanksgiving or the wee hours the next morning.
In the survey, the company compared regular pricing to the Black Friday discounts in over 5,000 ads from the biggest retailers around including JC Penny, Walmart, K-Mart, and Target just to name a few.
Who came out on the top of the list? JC Penney has the trophy, offering a discount of over 65 percent. Macys slid in by a narrow margin for second with an average savings of 53.52 percent savings. On the heels if Macy's, shockingly, was drugstore chain Rite Aid at 53.34 percent average savings.
Bringing the top five to a close were two more really close calls. The grocery store chain Meijer averaged 50.85 percent savings while Sears rounded out the top five at 50.19 percent.
The top five may come as a surprise to many readers, but when you compare some of these top end stores to discount chains such as Walmart, Big Lots or Costco. However, because prices are already significantly lower in these stores for similar products, it stands to reason that their average Black Friday discount percentage may appear lower overall.
There are plenty of stores offering substantial savings beyond the top five. The most notable stores with discounts with an average savings between 35 to 50 percent Walgreens (46.74%), OfficeMax/Office Depot (43.89%), Kohl's (39.89%), Staples (38.56%), RadioShack (36.49%), K-Mart (35.91%) and Target (35.61%).
Perhaps the most disappointing on the list of Black Friday deals is Best Buy and Walmart, barely coming in at a 32 percent discount.
Many would think that discount retailers would be on the top end of discounts regardless of possibly already discounted pricing in their store. Why? Because of the trend shift from brick and mortar retailers to online stores. Cyber Monday has put a dent in the sales that the retailers are seeing on Black Friday.
This brings us to the most surprising number yet. On Black Friday, Amazon discounts are barely above 26 percent, putting them near the bottom of the list of top 22 retailers. So, ultimately, who is last place on the list? Big Lots and Costco, coming in at 25.24 percent and 21.14 percent respectively.
While all this information is good to know, one must try and remember that these discounts did not take into account the difference in the starting price for similar or the exact same products.
Here is the complete list:
1. JC Penney (65.44% savings)
2. Macy's (53.52% savings)
3. Rite Aid (53.34% savings)
4. Meijer (50.85% savings)
5. Sears (50.19% savings)
6. Walgreens (46.74% savings)
7. Office Depot (43.89% savings)
7. OfficeMax (43.89% savings)
9. Ace Hardware (41.01% savings)
10. Kohl's (39.89% savings)
11. Staples (38.56% savings)
12. HH Gregg (38.26% savings)
13. Radio Shack (36.49% savings)
14. Kmart (35.91% savings)
15. Target (35.61% savings)
16. AAFES (34.84% savings)
17. CVS Pharmacy (34.32% savings)
18. Dell (32.41% savings)
19. Walmart (32.16% savings)
20. Best Buy (32.08% savings)
21. Amazon (26.10% savings)
22. Big Lots (25.24% savings)
23. Costco (21.14% savings)
(Photo courtesy of djLicious)