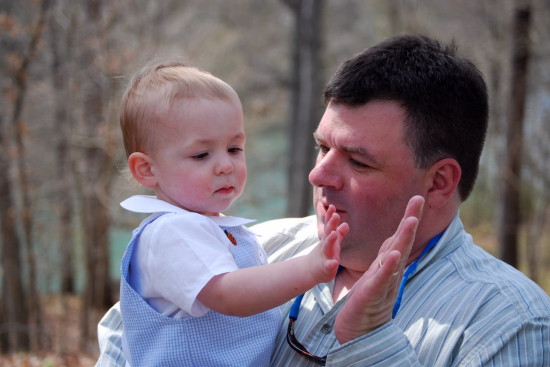 Have you ever wondered why you're single and broke? While being a single man may give you more freedom than being married with kids, having children gives men a bigger salary. According to a new study, men with kids earned a median salary $49,000, while men without kids only earned a median salary of $29,000. Men with kids also earned twice as much as women with children. These numbers came from a
Mommy Tax and the Daddy Bonus
study
conducted by City University's
The Graduate Center
in New York.
One of the big reasons for the salary discrepancy between fathers and those men without kids is that men with kids tend to be older and have more years in the workforce than childless men. This means they are more established in their careers which results in them having higher salaries, but this doesn't completely explain the wage gap. When the study looked at men with kids and those without in the same age group, there was still a wage gap in favor of the men with kids. For example, fathers between the ages of 35 to 49 had a median salary of $54,500 while men the same age without kids only had a median salary of $36,000.
The statistics also show that being a dad is better for your employment prospects. While 92 percent of fathers had full-time employment, only 77 percent of men without kids had full-time jobs. Childless men were also much more likely to have part-time jobs rather than full-time employment.
Being a dad also meant that the likelihood of being in a management position or in a professional job increased. They were more likely to end up with this type of work while men without kids were found to be more often employed in lower paying sales, service or office positions.
What was surprising was that education didn't play a large part in the income discrepancy. According to Laird W. Bergad, the executive director of CLACLS, "The data from this study also suggests that income disparities were surprisingly not connected to education or occupation. It appears that men with children have an overriding advantage to earn the highest personal income."
While not quite as stark as the salary gap between fathers and childless men, a similar wage gap also appears between mothers and women without kids. The study found that mothers had a median income of $25,000 while those without children only had a median income of $20,165.
(Photo courtesy of Jody Hamilton)