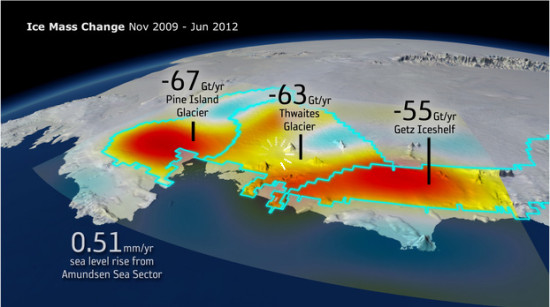 Does a portion of a continent have the ability to affect the Earth's gravity? That is an interesting question to consider for anyone who lives on planet Earth. This question has recently surfaced in relation to Antarctica and the changes the continent is physically going through due to melting ice.
How serious is this melting ice, and what is causing it? The fact of the matter is that this melting ice in Antarctica is a big deal and has some large scale consequences for the world. The Antarctic ice melt is a contributor to rising sea levels.
So what is causing this ice melt in the first place? One reason is due in part to accelerated glacial ice calving rates. This is really a loss of sea-based ice, which is causing the country to move at a quicker pace towards the ocean, thereby causing ice melt from the friction and movement. Of course, climate change also adds to this ice melt. But how does all of this relate to potential changes in the Earth's gravity?
About a week ago, there was an article that mentioned the Gravity Field and Steady-State Ocean Circulation Explorer (GOCE) having spent the last handful of years gathering data regarding the Earth's gravity. Of particular note is what has been happening to Antarctica during recent years.
From GOCE we learn that West Antarctica, in particular, has been losing ice. This huge loss of ice is causing a variation, or dip, in the gravity field over that particular region of the world. Keep in mind that gravity isn't a constant force over every part of the world. Particular regions of the world might experience a stronger or weaker gravitational pull due to the planet's rotation at a given time, and the location of mountain and ocean trenches on the continents.
An interesting factoid to consider is that since 2009, the ice melt affecting West Antarctica has increased three-fold each succeeding year. That is definitely something to take note of. More poignant is that between the years 2011 and 2014, the country as a whole has been shrinking in total volume each year by approximately 125 cubic kilometers. It stands to reason that a change in the mass of such a large continent would affect the gravitational pull.
Although West Antarctica has been in the spotlight, scientists are beginning to extend their research into this ice melt and resulting gravity loss to all of the continent. You can learn more about the research in the video below: