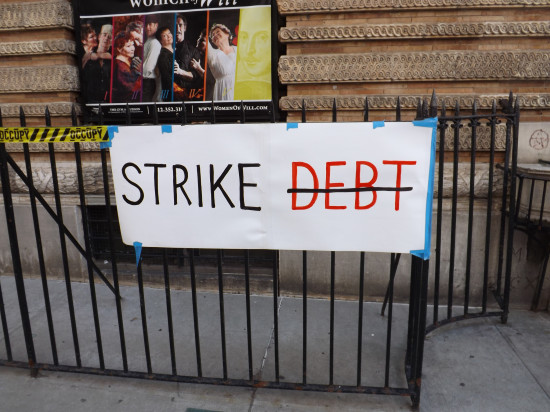 One of the offshoots of the Occupy Wall Street movement which has had a direct impact on individual lives is Strike Debt. This arm of the movement had a unique idea which has actually worked. The movement formed an entity to buy up peoples' debt that had gone to collection, but instead of trying to recover the debt as debt collecting agencies do, they simply forgave it.
The Strike Debt project began toward the end of 2012 when it started to purchase the medical debt for thousands of people. Since that time, the project has managed to purchase over $18 million worth medical debt and forgiving it, so those who had the debt no longer had it hanging over their heads.
This year the Strike Debt decided to focus on private student loan debt. Part of the reason they focused on private student loans rather than the federally backed government loans most students take out to finance their education at at not-for-profit colleges. The group explained this in a statement saying, "While medical debt is widely available to debt collectors on secondary markets, most student debt is not, because it is guaranteed by the federal government and cannot be erased in bankruptcy."
Even though they were limited to the private student loan debt, they ended up getting pretty amazing results. The Strike Debt group purchased $3.8 million worth of the student loan debt for just over $100,000. This helped to relieve the debt of nearly 3,000 people who had a private student loan which had gone into collections.
Strike Debt doesn't claim their system will be able to eliminate student debt, but it's a way to raise awareness of the issue and to come up with ways to change the system. As a project coordinator said, "We can't solve the entire problem, but we can help along the way while trying to fix the systemic problem."
The Debt Collective
While buying up debt and forgiving that debt has been the hallmark of Strike Debt up until this point, they are looking to expand the project. They will continue to buy debt and forgive it, but the next step they're taking is called The Debt Collective. This is a website they hope to organize to unite individuals with debt to give them collective bargaining power to help get better terms on the debt they owe.
With this project, anyone with debt can sign up on the website, and enter the amount of debt, the type of debt and where in the US they live. As more and more people sign up, groups will form which will work on ideas on how all the individuals in that group can work together to bargain as a group against lenders rather than as individuals. By bargaining as a group, the individuals have a stronger position in the bargaining than they would as an individual on their own.
(Photo courtesy of The All-Nite Images)