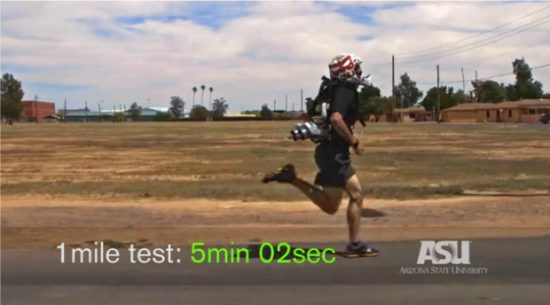 Arizona State University (ASU) is on a quest to get soldiers in full gear to run a four minute mile, and they hope to do it through a jet pack. While most people have the image of a jet pack letting people fly, the team at ASU is hoping it will keep its users grounded, but at enhanced speeds. The project is funded by the Defense Advanced Research Projects Agency (DARPA) and goes by the name of the 4MM project — with the 4MM standing for 4 minute mile. The goal of the project is to enable soldiers, even those who aren't particularly fast, to be able to run a 4 minute mile in full gear so they can get in and out of situations much more quickly.
The collaboration came together when former ASU student and mechanical engineer, Jason Kerestes, and Thomas Sugar, who runs ASU's Human Machine Integration Laboratory, teamed up on the project. Together, they were able to produce a prototype jetpack for DARPA which they're currently testing.
There's still a long way to go on the project, but the research is heading in the right direction. Even with the 11 pound jet pack on their backs, runners have started to shave seconds off their best running times.
In a video produced by ASU about the jetpack project (see below), Kerestes feels the project has the potential to save soldiers' lives. As he notes, "If you think of a Navy SEAL or an Army soldier that has to get in somewhere quick and do whatever they've gotta do, but maybe get out of there just as quickly, so these devices can really help soldiers to not only accomplish their goals and succeed in their missions, but potentially save human lives as well…In a warfare type arena, this could potentially be the difference between life and death"
While still in the initial prototype stage, the ASU researchers believe that their four minute mile goal is achievable, and plan to continue to work on improving the design to reach that goal. Below is the ASU video on the 4MM project and the jetpack in use: