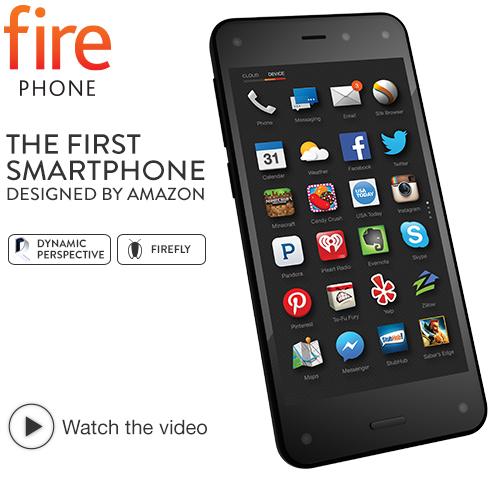 No matter what you may think of the
Amazon Fire Phone
's other specs, there is one thing that's abundantly clear about it – this phone was created with the sole intent of separating you from your money. While critics may lament that it doesn't have the what other smart phones have, if the Amazon Fire Phone gains a base of customers, Amazon will be lining their pockets with money not just from the phone, but from what the phone encourages its users to do – spend, spend, spend (It's definitely not a way to
save money at Amazon
).
The first sign the Fire phone is going after those willing to spend money is their refusal to discount the price to compete with the already established and popular models like the Galaxy S5 or the iPhone 5s. Instead, the Fire is priced at $650, or can get purchased for $200 with a two year contract with a number of select carriers. And what do you get for that price? A phone loaded with features created with the sole purpose of getting you to spend money.
Free Year of Amazon Prime
The first sign that the Amazon Fire wants you to spend money is that it comes with a free year of Amazon prime. That means that you get free shipping for any items you buy from Amazon during the year (plus some other benefits). That free shipping will be one more enticement to pull the plug and buy when you begin using the next feature…
Firefly
This is the game changer that will get a lot of people shopping. Firefly uses the phone's camera, 3D ability and microphone to detect what the images and sounds around you are. That is, if you see something that you like, you can point your phone at it and Firefly will immediately detect what it is, then take you to the Amazon page where you can instantly purchase it. This works for products, music, TV shows, movies and text. It's not perfect, but it does a pretty good job on most objects, and it will only grow better over time. It doesn't take a genius to see how this could prove to be a huge income generator for Amazon if the Fire phone becomes popular.
MayDay
The Fire phone also comes with the Amazon MayDay service. This is how Amazon plans to revolutionize customer service by having a direct link and near instant communication to receive any customer service needs you may have. Quality customer service will keep you buying the products Firefly continues to suggest to you.
For those who want to save money, this isn't the phone for you. For those who want to buy what they see and like as quickly as possible, then you may have found your dream phone.