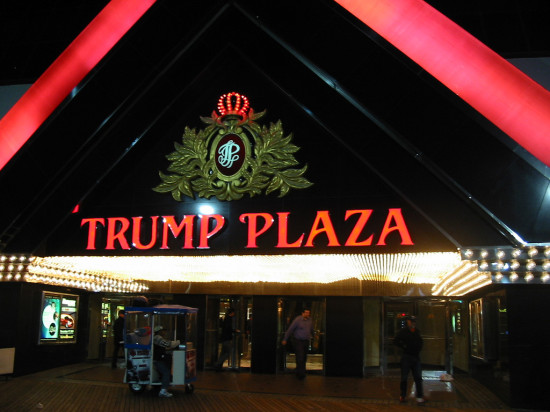 Atlantic City could see the Trump Plaza Hotel close as early as September if reports from The Press of Atlantic City are correct. The closure of this hotel-casino would mean the loss of another 1,000 jobs in Atlantic City, which has already seen three other casinos close this year. It would also mean the seaside resort area will have lost 33% of its casinos this year. According to US Securities and Exchange Commission (SEC) filings, Donald Trump owns a 10% stake through his Trump Entertainment Resorts as of last year.
The news isn't really much of a surprise. Originally opening in 1984, the resort is one of the oldest and smallest in Atlantic City, which has made it difficult to compete with newer and bigger resorts. It has also been one of the poorer performing casinos in Atlantic City. According to publicly available state documents, the hotel booked less than 50% of its rooms in the first quarter of 2014, and it had the lowest level of gaming revenue of all the city's casinos in May.
While some are holding out hope a buyer will emerge to take over the casino and save all the jobs, it may be a tall order to find one. The resort needs an estimated $100 million in renovations and upgrades to have a chance to compete with other hotels in the area, and it's saddled with $20 – $25 million in legacy pension costs. Both make finding a buyer unlikely.
Atlantic City casinos have struggled to stay relevant with consumers having more choices of where to gamble. While destination gambling cities were once the main place for gamblers to go, the Internet and more local and regional gaming establishments have changed the landscape. Atlantic City has felt the brunt of this change in the way people gamble.
Since the beginning of the year, the Atlantic Club casino, which had been in business for 33 years, has shut down. The Showboat, one of the larger casinos in the city, has announced it plans to close at the end of August. Even the newest casino in Atlantic City, the Revel, could close in mid-August if it can't find a buyer. If all these casinos do close, it would leave eight remaining in the area, including another Trump branded hotel, the Trump Taj Mahal.
(Photo courtesy of Lisa Andres)
Jeffrey strain is a freelance author, his work has appeared at The Street.com and seekingalpha.com. In addition to having authored thousands of articles, Jeffrey is a former resident of Japan, former owner of Savingadvice.com and a professional digital nomad.