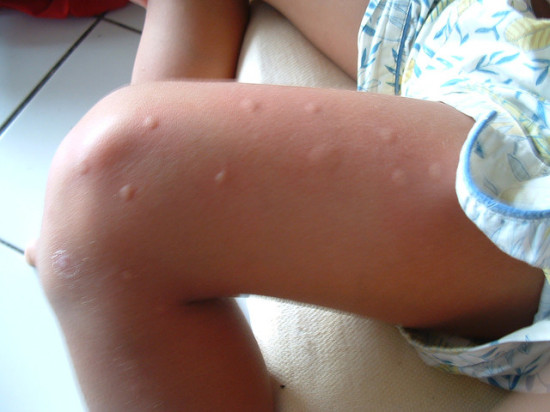 It's that time of year when
insects come out
, and you need to be careful of the diseases they may carry. You may mot have heard of the chikungunya mosquito borne disease before, but chances are that you will be hearing more about it in the future. No actual cases have been recorded of people getting it while in the US (although there have been reported cases in the American territory of Puerto Rico), but with more and more travelers returning from abroad with the disease, it's simply a matter of time. That's because once a person is infected, if a non-infected mosquito bites them, they can attain the virus and pass it onto another person with their next bite. As of June 2, there have been a total of 28 confirmed cases of the chikungunya disease in people who are living in the US, with most of those residing in Florida. Florida is also on alert for another mosquito borne disease, Dengue fever.
According to the Center for Disease Control, the most common symptoms of chikungunya fever are joint pain and fever. In addition, those infected can also suffer from headaches, joint swelling, various muscle pain, and rashes. While most people feel better within a week of the symptoms developing (usually 3 to 7 days after being bitten), the joint pain can last for months in some cases. The good news is that this disease rarely results in death, but that doesn't mean that the symptoms aren't severe, and can be debilitating for a time. Those who are infected from the mother at birth, those over 65 and people with certain medical conditions such as diabetes, heart disease and high blood pressure are most likely to suffer severe cases of the disease if infected.
Currently there is no vaccine for chikungunya, so the key to avoiding it is to not get bitten by mosquitoes in the first place. Here are a few steps that can help you protect yourself.
Avoid Mosquito Habitats
The best way to avoid mosquitoes is to stay away from their natural habitats of standing water. While this isn't always possible, avoiding places likely to have stagnant water where they breed such as lakes, marshes, stagnant creeks, and swamps can reduce your chances of getting bitten.
Clear Your Home
Since most people spend the majority of their time at home and around the house, make sure there are no places around your home where mosquitoes can breed, such as old tires with water in them, buckets or other containers with still water that collects after a rain, or any other stagnant bodies of water where they like to breed. Removing these can greatly reduce the number of the insects around your house.
Cover Up
When you do go out, cover up. The less skin that's showing, the less likely you are to get bitten. Wear loose fitting long-sleeved shirts and long pants. Since the weather is likely to be hot and humid, loose fitting clothes will help you stay cooler, plus it's possible for mosquitoes to bite through tight, thin clothing. The CDC says that the mosquitoes which carry chikungunya fever are most active during the day.
Use Repellents
There are a wide variety of insect repellents which can be applied directly to your skin to help keep mosquitoes away. These usually contain DEET or picaridin as the active ingredient, which are both effective in repelling mosquitoes according to the CDC. There are also a wide variety of natural mosquito repellents, but these may not be as effective as their chemical counterparts.
As with most things, there will be a small cost to be proactive and protect yourself from getting bitten by a mosquito that may carry the disease, but that will be far less than the cost you'll incur if you actually get the disease. A few good cans of quality mosquito repellent are a lot less expensive than a trip to the doctor's office, reduced productivity and missed work.
(Photo courtesy of LOLO)
Jeffrey strain is a freelance author, his work has appeared at The Street.com and seekingalpha.com. In addition to having authored thousands of articles, Jeffrey is a former resident of Japan, former owner of Savingadvice.com and a professional digital nomad.